Love "Forever Changes"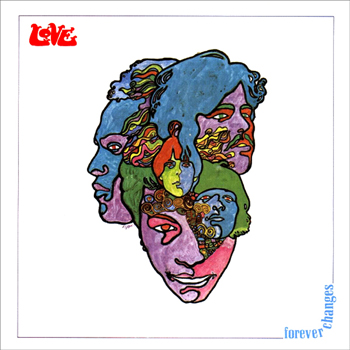 I think everybody must remember where they were the first time they heard Alone Again Or. For me it was a high school summer, driving my car, just marveling at the beautiful guitar line and mariachi rhythms, and the building drama of the chorus that goes so close to the top and never over. Any sucker riding shotgun over the next two months would be subjected to this powerhouse lead-off track from Love's third record.
It's important to not let Alone Again Or overshadow the rest of this classic disc. The masterful songs on Forever Changes manage to accept and transcend the sound of the era. In a Los Angeles scene where the Byrds were absent heroes and the Doors would shortly become immensely more popular, Love was and will remain the coolest, baddest group from this time and place.
Forever Changes is one of those albums where every moment of sound is as thoughtful as the last. The tunes are led with an acoustic rock combo and string orchestra with horns. Lyrically, the album represents both the light and dark sides of the 60s; these were reportedly Arthur Lee's last words, as he believed he was soon going to die, and in reality his band was falling apart.
Tracks like Maybe The People Would Be The Times Or Between Clark And Hilldale drive with a southern California sound forged by Love, part folk-psych and nearly part tropicalia. Lee's voice is authoritative but welcoming on A House Is Not A Motel and lean electric guitar leads provide quintessential psych sounds. The poetry can get dark sometimes, in The Red Telephone with its suicidal hint, but it remains somewhat down-to-earth when "The snot has caked against my pants…" opens Live And Let Live.
I have read all manner of scandal from contemporaries of Love, including one wondering why the band hadn't chosen Hate for their band name. Their story, revolving around the genius of Arthur Lee won't equal the story told on this record; while not a concept album or rock opera, it gives an eerie glow of some tale, or lesson never learned. A beautiful, haunting suite.
Audio clip: Adobe Flash Player (version 9 or above) is required to play this audio clip. Download the latest version here. You also need to have JavaScript enabled in your browser.
"Maybe The People Would Be The Times Or Between Clark And Hilldale"

CD Reissue | 2008 | Rhino | Collectors Edition | buy from amazon
]


Vinyl | Elektra | search ebay ]
Also Recommended