Mac Gayden "Skyboat"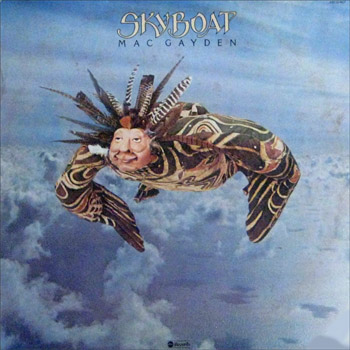 Note: Today's post comes from dk, author to one of the finest vintage music blogs around: dk presents. Don't miss subscribing over there and look forward to some more Storm reviews from dk in the future.
The story of Mac Gayden's Skyboat is one of bad promotion, bad cover art, and bad luck. Gayden was a top-notch Nashville session guitarist who made an uncredited appearance on Bob Dylan's Blonde On Blonde, played the distinctive slide guitar on J.J. Cale's 'Crazy Mama', and wrote hit songs such as 'Everlasting Love' (part of which he claims to have written on his grandmother's piano when he was just five years old). This 1976 album is a pleasing amalgamation of many 70's musical styles – country rock instrumentation, soulful vocals, pop sheen (string charts courtesy of Bergen White), and an overall singer-songwriter sensibility. Wedged stylistically between Cat Stevens and Poco, Skyboat should have been Gayden's breakthrough.
Instead, paint-by-numbers promotion men in Los Angeles saw a Nashville artist and assumed Skyboat was a country record, which it most definitely is not. By pushing this album as country and sending it out exclusively to country stations, ABC Records effectively ensured its doom. And there's no way to put this kindly – that album art is atrocious. The awkward creature flying across that cover is in no way representative of the 11 highly-polished cuts on this record, and certainly didn't help its cause.
Opener 'Morning Glory' has hit written all over it. One of the great lost tunes of the '70s, this song is so good that you'll sing along the first time you hear it. Gayden shows off his considerable guitar chops in two places on this song, but particularly on his solo near its conclusion. Sublime stuff. 'Gettysburg' is a stirring, minor-key, banjo-tinged ode to the South that was recorded in a thunderstorm and sounds like a blueprint for Will Oldham's career. Gayden lays down his own version of 'Everlasting Love' (since covered by nearly everyone, including U2), which ironically might be the least heard of the many versions in circulation. Elsewhere, 'Don't Look Back' is a bold re-wiring of a Temptations' song that makes perfect sense in this context, and 'Diamond Mandala' closes the album with 10 minutes of Appalachian fever dream that conjures Sandy Bull, Aaron Copland and Native American spirit dances.
Gayden told Mojo magazine in 2002 that "By the time [radio] realized the album [wasn't country] it was too late, and many stations refused to play the record because of ABC, not because of me. It put an end to my career… so I do have some bittersweet memories." The memories might be bittersweet, but the music is pure nectar…
Audio clip: Adobe Flash Player (version 9 or above) is required to play this audio clip. Download the latest version here. You also need to have JavaScript enabled in your browser.
"Morning Glory"

CD 2fer | 2008 | Big Beat | buy at amazon ]


 Orig Vinyl |  1976 | ABC | search ebay ]
Also Recommended