Maitreya Kali "Inca"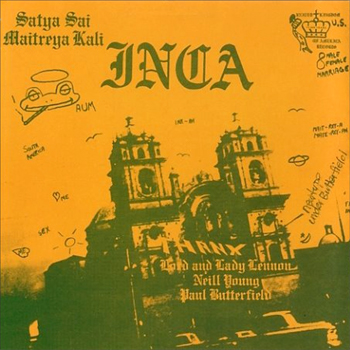 Despite reading the occasional negative review, I think Inca by Maitreya Kali is a good one. Maitreya Kali is actually Craig Smith who was one of the key members of California folk-rock band the Penny Arkade. Theirs was a sound influenced by mystical psychedelia but also grounded in American roots and C&W.
Chris Ducey along with Craig Smith were the creative architects of this hardluck outfit and many of their songs employed guitar distortion, plenty of Californian harmonies and jangly, amplified country folk twang. Some of the Penny Arkade tracks appeared on Inca when it was released in 1972. Apache, Smith's debut, had appeared earlier that year and also featured a handful of Penny Arkade leftovers from 1966-1968. Both albums feature Craig Smith solo tracks and while both records are solid, Inca may have a slight edge in terms of quality.
In his earlier years, Craig Smith had written songs for the Monkees, Andy Williams and Glen Campbell. With these songwriting royalties Smith traveled the world and financed the release of the Apache and Inca albums. Solo tracks such as Sam Pan Boat are very sensitive and fragile acid folk with pretty vocals and a beautiful burned out ambience. The Penny Arkade tracks have a sound that has often been compared to a garage version of Buffalo Springfield. Their most popular song, included on this album was the 12 and a half minute Knot the Freeze. This psychedelic folk-rock opus is a must for 60's fans and strongly resembles Buffalo Springfield's Broken Arrow in it's suite-like structure. Knot the Freeze reportedly received some local airplay when Inca was released but it is by no means the only highlight on this private release. There are other good Arkade tracks like the tuneful garage folk-rocker Lights of Dawn and the confused acid folk philosophy of Thesis. Country Girl was one of their unqualified triumphs as a band, a prehistoric shimmering country rock number with carefree lyrics and an honesty that is rare in much music.
Not much is known about Craig Smith's whereabouts today, although it's been said that after these lps were released he suffered a mental breakdown possibly due to drug intake. Both albums are really good listening and well worth a spin for fans of psychedelia and roots music. Sundazed recently released all of the Penny Arkade's recordings, including 16 unreleased tracks from the vaults. This disc is also highly recommended to fans of folk-rock, psychedelia or anyone wanting to delve a little deeper into the world of 60's underground rock.
Craig Smith solo:
Audio clip: Adobe Flash Player (version 9 or above) is required to play this audio clip. Download the latest version here. You also need to have JavaScript enabled in your browser.
"Sam Pan Boat"
The Penny Arkade:
Audio clip: Adobe Flash Player (version 9 or above) is required to play this audio clip. Download the latest version here. You also need to have JavaScript enabled in your browser.
"Country Girl"
[ Buy from Amazon
| Search eBay ]
Also Recommended