Manfred Mann Chapter Three "Volume 1"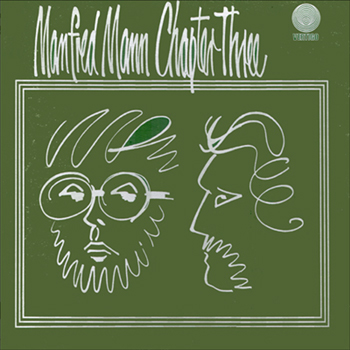 Manfred Mann's Chapter 3 was this band's third lineup formed around late 1968/early 1969. Mann had taken in bassist Steve York from the legendary progressive psychedelic band East of Eden. It was the start of something new and fresh, a total departure from the blues-rock and psych pop lineups of the mid to late 60's.
Each Manfred Mann lineup has at least one classic record on offer but Volume 1 is unique even within these ranks. Volume 1 was something that Mike Hugg and Mann had wanted to do for sometime but feared the possibility of a commercial failure. Hugg handles most of the lead vocals on a record that I've heard described by some as a darker version of Traffic circa 1969. The sound is very progressive, peppered with jazzy horns, keyboards/organ, a slow stoned ambience, creative arrangements and Hugg's quite original although bizarre vocals. Mister You're A Better Man Than I, the original version, finally makes an appearance, in a slow jazzy build up that's a definite highlight. Totally different than the Yardbirds' masterpiece of the mid 60's, it's still superb and worth your time.
Other songs like the brilliant Devil Woman fall in between the exotic and avant-garde with strange percussion, a demented Mike Hugg, sound effects, and soaring female backup vocals. Sometimes and One Way Glass are the most pop oriented of the bunch but are dreamy jazz inflected gems. I would have to give this album one of the highest possible ratings for early progressive rock (1969) because of the musicianship, originality, and overall downer mood. Chapter 3 released one other solid record in 1970 and supposedly have a shelved 3rd album awaiting release (it's supposedly their best from what I have read)!
Audio clip: Adobe Flash Player (version 9 or above) is required to play this audio clip. Download the latest version here. You also need to have JavaScript enabled in your browser.
"Sometimes"
[ buy @ Amazon
| manfred mann @ eBay ]
Also Recommended