Manfred Mann's Earth Band "Manfred Mann's Earth Band"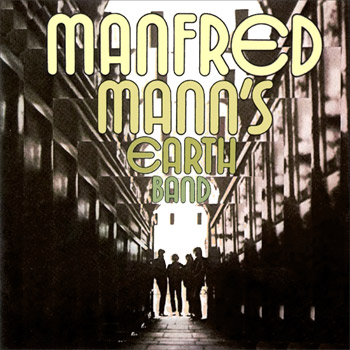 The Small Faces, the Pretty Things, the Zombies and the Move have seen numerous write-ups, send offs, and press in all the big-time (and small-time) classic rock publications.  But of all the major British Invasion acts, none has been as ill-served and neglected in rock critic circles and the collector circuit as Manfred Mann.  Mann and his group are usually thought of as a singles act, which is a cryin' shame as many of their albums are great if not better than that.  Manfred Mann's Earth Band followed the excellent jazz rock explorations of Chapter Three (Volume 1 is a stone cold classic).  The self-titled Earth Band debut remains one of the forgotten progressive rock masterpieces.  Manfred Mann's Earth Band is an LP that's actually worth hearing as it's one of the best albums of its time and a fan favorite of sorts.
Originally the Earth Band had been working on Stepping Sideways, a rootsy album that was scrapped in favor of newer, more challenging material, which had been part of their live act at the time.  Many of the Stepping Sideways tracks are as good as much of what ended up on the Earth Band's debut.  Most of the lost Stepping Sideways sessions later appeared on the Earth Band's outtake box set, Odds & Sods.
On Manfred Mann's Earth Band, the group take the best aspects of pop and progressive music and meld them into something original and distinctive.  Manfred Mann's Earth Band came out in 1972, the height of the progressive rock boom.  The album is half covers, half originals.  There are no long, wanky keyboard solos, everything here is well structured and tight – the band cooks throughout.  Mann still kept some of the rootsy singer songwriter material from the earlier, Stepping Sideways sessions.  "Part Time Man," a cover of Dylan's "Please Mrs. Henry," and "I'm Up and I'm Leaving" are all wonderful, underrated cuts that hold up to repeated plays. Other worthy tracks are "Captain Bobby Scout" which features a cool middle synth section, "Tribute," a mysterious space rock instrumental and the great, hard rocking "Prayer." Mann's use of the Minimoog/synth/keyboards is inventive and often overlooked, he never loses focus or falls prey to mindless self-indulgence.  The album's centerpiece, a cover of Randy Newman's "Living Without You," was a minor US hit and is perhaps the best version of this song you're likely to hear.  The Moog work on this track is subtle but powerful while the hooks are huge.  "Living Withou You" is one of those great early 70s singles that wasn't a big hit, but truly deserved to be.  Overall, not a wasted note or duff track to be found on this lost classic.
Audio clip: Adobe Flash Player (version 9 or above) is required to play this audio clip. Download the latest version here. You also need to have JavaScript enabled in your browser.
"Part Time Man"

CD Reissue | 2009 | Polydor | at amzn ]


Original Vinyl | 1972 | search ebay ]
Also Recommended