Maxfield Parrish "It's A Cinch To Give Legs To Old Hard-Boiled Eggs"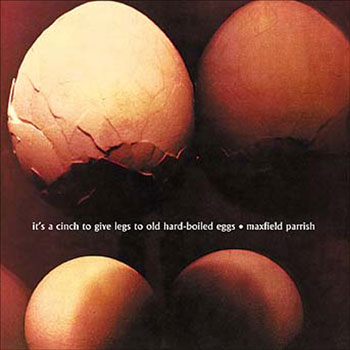 Maxfield Parrish's only album was released in 1972, well after the band had split up. Members from the great California band Kaleidoscope produced and played on this underappreciated record which was originally recorded in early 1969. Had this album seen release in 1969, it would have been regarded today, as an early, innovative slab of country-rock.
It's A Cinch strongly recalls the Byrds' Notorious Byrd Brothers/Easy Rider era or even the New Riders early material (great stuff!!), with strong songwriting, superb musicianship and a few nifty psych/space rock moves. There are some great, catchy acoustic rock songs in "Julie Columbus" and "Cruel Deception."  The weirder creations, "The Widow," an 8 minute mantra, and "The Untransmuted Child" work really well too. In particular, "The Untransmuted Child" is excellent, sounding like a trippy mountain hymn with hillbilly vocals, organ, harmonica and hallucinary guitar sustain.
Fans of the Byrds, Dillards, and Euphoria should not miss this one before it goes out of print forever!
Audio clip: Adobe Flash Player (version 9 or above) is required to play this audio clip. Download the latest version here. You also need to have JavaScript enabled in your browser.
"The Untransmuted Child"
[ Available as Import
]
EDIT: Read the comments below to hear the story direct from lead singer David Biasotti and some of the other folks behind the creation of this record.
Also Recommended