Michael Hurley, The Unholy Modal Rounders, Jeffrey Fredericks & The Clamtones "Have Moicy!"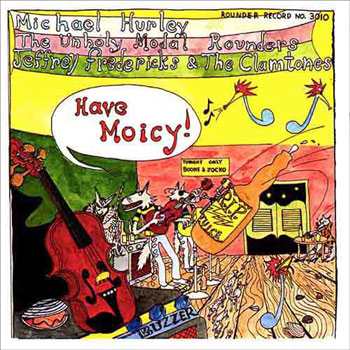 This is a special record. If you can't figure that from the amount of online chatter, user reviews and critical reviews declaring Have Moicy to be one of the best records of all time, or at least proclaiming some kind of undying allegiance (Moicy made the New York Times' top 20 LPs of 1976), you'll get it falling in love after just a couple spins. Count me in on the converted! Sometimes I fall so deep for a record that listening to the music isn't enough, I wish I could touch or hold the sound itself. If it were possible, Have Moicy would get a hug.
A collaborative and joyous meeting of out-there minds, the founders of freak-folk hadn't lost a touch of steam by 1976. Michael Hurley, known by fans as Snocko (see his official homepage), was a Folkways recording artist while Peter Stampfel was one half of the Holy Modal Rounders, Steve Weber absent from these sessions. This would be Jeffrey Fredericks and the Clamtones' first official recording but all were essentially part of the Rounders family, and best of all, Have Moicy! is merely a gateway into the fine solo recordings of all the artists involved.
Stampfel's numbers drive with clawhammer banjo, washboard and ratchety percussion, an unconcerned fiddle and mandolin leads. Half the songs are electrified with pre-Meat Puppets unaffected treble licks in interlocking rhythms. The players never fill too much space, giving each instrument enough breathing room to act as genuine ear candy. The band somehow converges to create a clean renegade folk constantly teetering on the edge of chaos. Some undefinable bit of magic holds it all together. The tunes have unserious and silly lyrics but are never overtly comical or embarrassing, just fun, unpretentious, and honest folk music.
It's impossible to pick two standout tracks from such a solid lineup. If you like what you hear, don't delay in grabbing the 1992 reissue or the mp3 download, you won't be disappointed. Every tune is positively great, and for the initiated, few other records will bring as much cheer.
Audio clip: Adobe Flash Player (version 9 or above) is required to play this audio clip. Download the latest version here. You also need to have JavaScript enabled in your browser.
"What Made My Hamburger Disappear"

CD Reissue | 1992 | Rounder | buy from rounder | amazon
]


Original Vinyl | 1976 | Rounder | search ebay ]


MP3 Album | download from amazon
]
Also Recommended