Michael Nesmith "Magnetic South"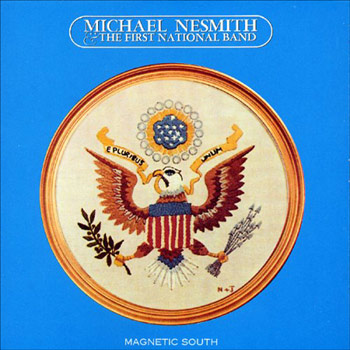 Michael Nesmith was never really a Monkee. At least, not in the way that most folks imagine the Monkees – as 60s bubblegum phonies in a TV show. The Monkees eventually got with it enough to deserve much more cred than that, but Nez was always ahead of the game.
By 1965, Nezzy was writing and selling hits in LA that were recorded by artists like The Stone Poneys and The Paul Butterfield Blues Band. His only mistake was showing up for an audition advertising their need for "four insane boys." While there's no telling if it was a mistake or not, Nezzy grew unhappy with lack of freedom afforded to him on the Monkees' records. He was a musician and a songwriter in the first place!
In 1970 he paid a mint to end his contract early and got to business. It's clear he wanted to renew his image, because The First National Band he assembled went on to record this country rock classic which is right on par with the Burritos and Poco. When you spin this you'll realize why Nezzy got frustrated in the Monkees; his songwriting is incredibly strong.
The tone is almost more country than rock, not to say he turned his back on his pop roots. The pedal steel verges on Hawaiian and the band commits to a laid back but very tight sound. Nezzy doesn't have that "deep in the heart a" country bass kind of vox, but he gets nice and yodelly-melodic on Joanne (the album's #21 single) and brings out the high-lonesome on Keys To The Car. Things tend to get a little groovy here and there, but First National always brings it back home! Great licks and a very memorable album.
This is a real-deal country rock record, every bit influential as all the others. If you look for this on CD, you'll also get the other two First National Band records that followed Magnetic South, both as great as the first.
mp3: Hollywood
[ Buy from Amazon
]
Also Recommended