Mickey Newbury "Heaven Help The Child"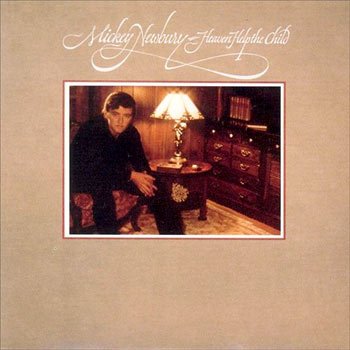 In 1969 Mickey Newbury's Looks Like Rain began a string of incredible albums that lasted well into the 1970s. Heaven Help The Child, released in 1973, was one of his very best records. It was also the last of his classic Cinderella Sound Studio Recordings (a garage studio). Produced by Dennis Linde, Russ Miller and Marlin Greene, Heaven Help The Child featured a whole cast of contemporary Nashville musicians: Wayne Moss (guitar) Chet Atkins (guitar), Vassar Clements (violin), David Briggs (keyboards), Buddy Spicher (drums) to name but a few. Many of these talented musicians had performed on Newbury's prior albums' Looks Like Rain and Frisco Mabel Joy. Once again Mickey Newbury was up to the task, releasing another hard-to-categorize classic.
"Heaven Help The Child," the title track, is a soaring American masterpiece that was beautifully produced and featured poignant lyrics about Park Avenue, New York in 1912, 1920's Paris, and of course freight trains. The lyrics, as always have lots of depth and the overall feel of the song becomes captivating when Newbury sings in his ghostly voice, "We're all building walls instead of bridges." "Heaven Help The Child" ended with an air of uncertainty but it goes without saying that this was one of Newbury's finest creations. Another highlight, "Why You Been Gone So Long," swings with a confident country-rock swagger and features excellent dobro guitar and Newbury's smokey vocals which simmer throughout the song.
Four of the songs from Heaven Help The Child had been released on earlier LPs.  Here, "Sunshine," "Sweet Memories," "Good Morning Dear," and "San Francisco Mabel Joy" all enjoy definitive reworkings.  Great songs from Newbury's prior discs had become even better renditions for Heaven Help The Child.  From my perspective, "Sweet Memories" and "Sunshine" stand out for their dark tone.  Here, Newbury shares his pain with the listener and by the end each song you begin to feel it – the vocal performances on all these tracks are flawless.    You will never hear any country music like this, it's experimental but more importantly, the honesty and personal nature of Newbury's songwriting talents shine through.  It's what makes him such a special, enduring artist.  By all means, if you find this album on vinyl, cd or mp3 pick it up, it's absolutely brilliant.
Mickey Newbury's music isn't glamorous or pretentious, he never tried to be someone else nor did he follow any sort of fad (just like country-folk contemporary Townes Van Zandt). Newbury's appeal was in the song, he brought you back to a familiar place and time. His music, while very complex, is easy to relate to; he was just a regular guy with extraordinary vocals and a unique songwriting talent. As mentioned in a previous post, the Mickey Newbury Collection (Mountain Retreat box set) has been out of print for quite some time. You can purchase a digital download of this album and many other Mickey Newbury classics at the official Mickey Newbury website.
Audio clip: Adobe Flash Player (version 9 or above) is required to play this audio clip. Download the latest version here. You also need to have JavaScript enabled in your browser.
"Why You Been Gone So Long"

MP3 Album | mickeynewbury.com ]


Original Vinyl | 1973 | Elektra | search ebay ]
Also Recommended