Mighty Baby "A Jug Of Love"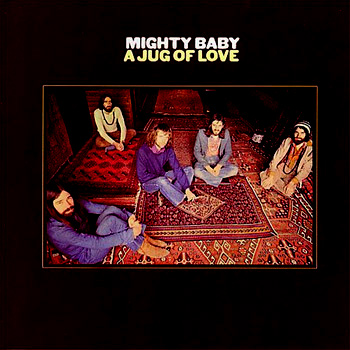 After the release of their scorching debut, Mighty Baby drastically switched format and recorded this Dead/Airplane-influenced rural LP. Both are great records, but hardly by the same band.
The self-titled lead off track would get your attention first, it got mine enough to include it on the very first Rising Storm Podcast. This track, and the album overall, is loaded with vicious string bender guitar licks from either Alan King or Martin Stone (can anybody confirm?). Whether it's a bender or not, Clarence White fans should take note for the onslaught of high-register fancy guitar pickin contained herein.   My only complaint is the length of songs, tending to jam on a bit, however to those looking to soak in these type of sounds this is a dream. Besides, with a touch of class and some minor theatrics they manage to give noodling a good name.
Influences range from The Band on the grooving "Tasting The Life," CSNY on mellow "Virgin Spring," and Untitled Byrds all over. "Virgin Springs" is a song so familar it sounds like a cover, I just can't find any evidence of an original version. In this case, along with "Slipstreams," the album is responsible for at least two bonafide rural classics.
Jug of Love is what happens to a band after their rock break out leads them to Sufism and a jaded view of the music industry; always makes for an interesting sound! Check out Jason's post on their s/t debut to compare this to the "sleek, powerful piece of psychedelia" that is Egyptian Tomb (updated link).
Audio clip: Adobe Flash Player (version 9 or above) is required to play this audio clip. Download the latest version here. You also need to have JavaScript enabled in your browser.
"Keep On Jugging"

CD Reissue | 2006 | Sunbeam | A Jug of Love
]


Original Vinyl | 1971 | Blue Horizon | search ebay ]


Spotify link | listen ]
Also Recommended