Moby Grape "The Place And The Time"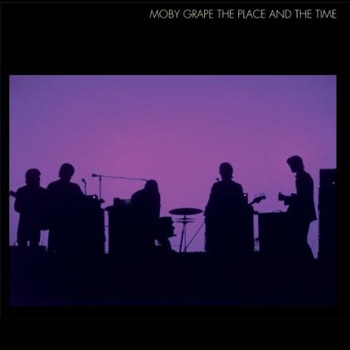 If you're not convinced Moby Grape were one of the hippest, baddest, realest, and rawest bands of the late 1960s then grab this new outtakes and live cuts compilation from Sundazed and try to explain otherwise.
The Place and the Time collects unissued recordings by Moby Grape and presents them more or less chronologically from 1967 to 1968 over 2 LPs. Side One combines auditions ("Indifference," "Looper") and demo cuts ("Stop," "Loosely Remembered")  with "Rounder," an instrumental outtake from the sessions for the Grape's legendary debut album. Side Two focuses on outtakes from the Wow album sessions, ending with a scorching version of Bob Mosley's "Soul Stew." Side Three rounds out later 1968 Grape demos, many of which would form the Moby Grape '69 album, and Side Four includes a triplet of killer live cuts from 1968 – just listen to the overwhelmed crowd react to the onslaught of "Changes."
I love the Sundazed mono pressings, but the stereo live cuts are particularly atmospheric; it puts you right on the stage with the band and hearing these tracks pressed to vinyl (for the first time in their sadly neglected lifespan) is a real warp zone. Moby Grape fans who haven't picked up the recent reissues (where some of these are bonus tracks) should clamber to get on board with these discs, the recordings are rock solid in sound and it's a treat to spin these dusty gems and listen to the mighty Grape tear shit apart.
Audio clip: Adobe Flash Player (version 9 or above) is required to play this audio clip. Download the latest version here. You also need to have JavaScript enabled in your browser.
"Soul Stew"

180 Gram Vinyl | 2009 | Sundazed | buy from sundazed ]


CD | 2009 | Sundazed | buy from sundazed | amazon ]
Also Recommended