Mountain Bus "Sundance"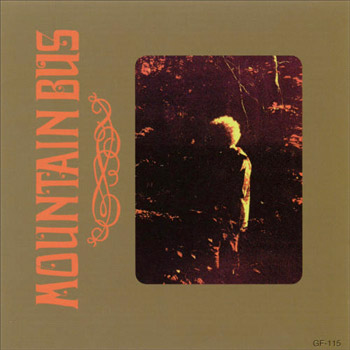 Mountain Bus is the kind of band you get into after you've exhausted all your major label heroes. They were one of Chicago's great underground bands who were dealt a bad deck of cards. Mountain Bus were frequently cited as Chicago's answer to the Grateful Dead, and indeed some of their songs on the above album sound like San Fransisco's most cherished sons.
Mountain Bus' roots extend way back to the early 60's when Ed Mooney was fronting a band called the Moons and the Stars. Tom Jurkens was in another local group called Jurk & The Bushman and upon their demise formed a group with Mooney called Rhythms Children. This group took in Steve Titra, Joe Wilderson and Steve Krater. Eventually Rhythms Children dissolved when Wilderson left for Canada avoiding the Vietnam War draft. Bill Kees had formerly been in Fantasy and Hearts of Soul when he joined the struggling Rhythms Children. They began calling themselves Mountain Bus and playing as many live gigs as possible around the Chicago area. Mountain Bus never made alot of money during their day and always had low paying jobs. Their jobs funded the band's equipment, activities and eventually, legal costs. Some of the group members worked at local record stores. One of the record stores, Round Records, ended up becoming the groups headquarters while owner David Solomon assumed Mountain Bus' manager role.
In 1971 independent label Good Records released Mountain Bus' only album Sundance. Good Records goal was to release good quality local music that could be sold to the public at reasonable prices. They also aimed to give the musicians a greater slice of the profit, unlike the major labels. Mountain Bus' end was unfortunate and came very suddenly in November of 1971. Windfall Music slapped an ugly lawsuit on Mountain Bus and Good Records claiming that both entities were infringing on the established trade marks of Mountain (Leslie West's band). Windfall Music demanded that all record sales, promotions, air play and so forth be halted and that such activities had hurt the sales of Mountain lps. Roger Maglio of Gear Fab records summed it up best, "It was a plain and simple matter that the major record labels at this time (Columbia owned Mountain) were not going to allow nor put up with upstart companies like Good Records or any others that offered good quality music at an affordable and lower price than the majors. Mountain Bus had never reaped any significant profits over these years – the band were paid very small wages and many of their performances were for benefits and other non-profit organizations. A record company founded with the express purpose of providing people with good quality music was run out of business. And a great band broke up as a result of these bully actions." It's funny to note that Mountain Bus had been together some years before Mountain had formed – 2 years to be exact. I guess it was a loss for the public and a big gain for the greedy record company executives.
These legal disputes should not overshadow the music though, which is often excellent and full of stunning guitar solos. Tracks like Sing A New Song and Rosalie are what the late 60's Dead should have sounded like in the studio – they capture a good live outdoor sound. Rosalie is a superb jam rocker with lots of great melodic guitar work that is at once trippy but also laced with a C&W accent. Sundance is an awesome psychedelic folk-rocker that hits the 7 minute mark but never succumbs to any formless jamming – it's a track that reminds me of 5th Dimension Byrds crossed with Live 69 Dead. Other highlights are a long but very good country-rock version of I Know You Rider and the psychedelic instrumental Hexahedron. "Deadheads" and fans of great rural rock sounds should not miss this mini classic. In the late 90's Sundance was reissued by Gear Fab records with additional outtakes and live cuts. This package offers lots of good music for a cheap price.
Audio clip: Adobe Flash Player (version 9 or above) is required to play this audio clip. Download the latest version here. You also need to have JavaScript enabled in your browser.
"Sundance"

CD Reissue | 1999 | Gear Fab Records | buy from amazon

Original Vinyl | 1971 | Good Records | search ebay ]
Also Recommended