Music Emporium "Music Emporium"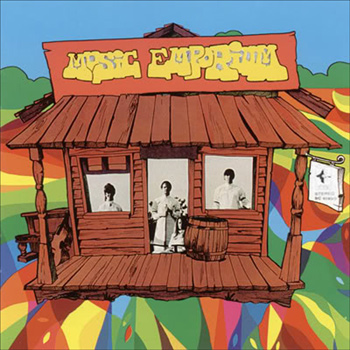 This 1969 West Coast Rock curio by a little-known LA combo exudes novelty well beyond its appalling band name and its trashy cod-psych cover art. With three out of four musicians classically-trained and featuring an all-female rhythm section, the outfit's claimed influences ranged from Iron Butterfly to the Carpenters, with members of both of whom they were on first-name terms.
Bill Cosby (no relation) was a five-time all-USA accordion champion, classical organist and UCLA music major whose preferred rock tool was a mega-cheap Italian Galanti GEM organ amplified through two massive Vox Super Beatle rigs. Diminutive Dora Wahl, also originally an accordionist, switched to percussion to join her elementary school band and by '69 bestraddled a huge double-bass-drum kit in emulation of her hero, Ginger Baker. Carolyn Lee had played orchestral double bass from childhood and sang in choirs and acapella groups before being seduced by pop music and taking up electric bass guitar. Only guitarist Dave Padwin was an unschooled player, but his fluid, instinctive technique and extensive beat group experience won him the audition. Changing their moniker from the rather doomy Cage to the more psych-twee Music Emporium, the four performed around SoCal at weddings, barmitzvahs, high school hops, beach parties and anywhere else they could score a gig, confusing promoters and audiences alike with their unusual combination of clean-cut appearance, classical/folk/acid-rock fusion and unexpectedly high volume. The album was recorded in a couple of clandestine overnight sessions at Sunset Studios and then remixed with new vocals by an ex-Liberty employee just starting his own local label. The money saved on recording went on the tacky but elaborate die-cut cover through whose "windows" the portraits on the inner sleeve photo peeped out.
The defining sounds of the album are undoubtedly Cosby's organ and the collective vocals. The GEM as recorded has a reedy, piercing power only approached by Frank Rodriguez of the Mysterians, though Cosby's classical chops take it way beyond the realm of garage R'n'B. All except Wahl take lead vocals, though only Lee is by any means a polished singer; however, when their voices meld, the confident, slightly atonal harmonies are as effective and distinctive as the Airplane's. Kicking off with "Nam Myo Renge Kyo", which mutates from a garage-band romp into a Buddhist chant, the material ranges widely from the dreamy folky excursion of "Velvet Sunsets" and the almost country-rock "Times Like This" with its unexpected piano licks through the shamelessly Bach-inflected "Prelude" to "Winds Have Change", whose soft harmonies and pulsating guitar work suggest early Moody Blues, and the uncompromising riffs, thundering drums and downright punk vocal of "Sun Never Shines", the album's most forthright track. Whilst unashamedly forefronting the musicians' considerable skills, all the songs are rendered collaboratively and concisely with relatively few and short solos, only the proto-prog mini-suite "Cage" breaching the four-minute barrier. The Sundazed CD reissue also includes five of the same tracks in instrumental form, giving the opportunity to hear how deliberately and delicately the backings were constructed.
An initial pressing of just 300 copies and zilch press or radio exposure guaranteed the album's rarity, because the Draft Board got Cosby's number soon afterwards; unlike many of his compatriots he eschewed the Toronto option and elected to serve, and the band promptly broke up. Various crappy bootlegs of their sole waxing surfaced before Sundazed got hold of the master tapes for the definitive CD reissue in 2001. On this Bob Irwin's remastering is excellent and the insert booklet offers a fine account of the band's genesis and the making of the album, including touching personal updates by all four members: Padwin became a press photographer, Lee returned to orchestral work, Wahl became a teacher and Cosby served 17 years as Instructor of Cadet Music at West Point.
mp3: Prelude
mp3: Winds Have Changed

Original | Sentinal | 1969 | search ebay ]


Reissue | Sundazed | 2001 | buy ]
Also Recommended