Nancy Sinatra & Lee Hazlewood "Nancy & Lee"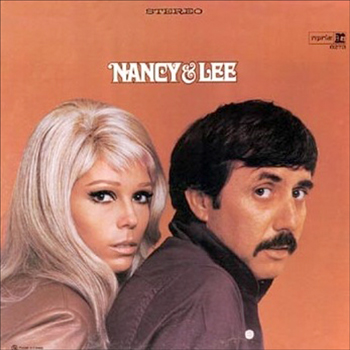 In memory of Lee Hazlewood.
This can be hard to find (on CD), but don't pass it up should you come across it on vinyl: it's a real psych/period gem and a great introduction to both artists. There's something magic about Nancy and Lee together on this record, and it's probably the best record they put out together or alone.
Songs change form, Lee will take it on a weird slant, or Nancy will reflect for awhile over a softer bit of orchestration. It's not without a few missed tracks, but this is a strange record to begin with, pairing The Chairman of the Board's smokin' hot daughter with this ragged-voxed drifter, legendary producer type. There are a few big tracks on here, opening with the righteous You've Lost That Lovin Feeling, plus Summer Wine, a cookin' version of Jackson, and most out there of all, the enigmatic and wonderful Some Velvet Morning. But there are other gems on here too like Sand and Sundown, Sundown. This is a great album for Scott Walker fans.
Also the liner notes on the back!
Don't mistake this record for Nancy & Lee Three. In fact, if you can't seem to find it in the bins, take a look on iTunes, where they also have Nancy & Lee Again. I found this record out in the wild pretty soon after finding out about it, so it couldn't be too hard. Oh, and check out (aptly named) Some Velvet Blog, where you can get an ear on Velvet Morning.
Audio clip: Adobe Flash Player (version 9 or above) is required to play this audio clip. Download the latest version here. You also need to have JavaScript enabled in your browser.
"Summer Wine"
[ Download from iTunes | Search eBay ]
Also Recommended