Nashville West "Nashville West"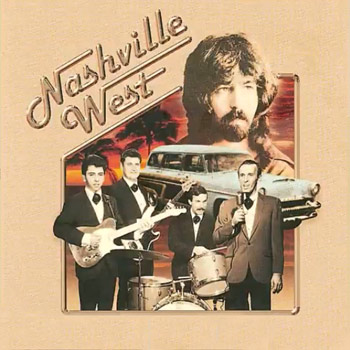 Sierra-Briar Records released the original Nashville West vinyl LP in 1978.  Initially panned by rock critic Noel Coppage in 'Stereo Review' magazine, the Nashville West album has since been proclaimed one of the "20 Essential Country Guitar Albums" (Guitar Player magazine) and has seen subsequent releases in Italy, Holland, and England.
Nashville West is indeed a solid record that features the talents of Gib Guilbeau (vocals), Wayne Moore (bass), Gene Parsons (drums), and of course Clarence White (guitar).  These recordings were laid down live at the Nashville West Club in El Monte, California (1967).  The four musicians traveled back and forth from Bakersfield to LA in a beat up 1954 Mercury station wagon, playing all the local dive bars and clubs along the way.  These songs were recorded before Guilbeau formed Swampwater and also before Parsons and White would become full-time members of the Byrds.  The group's name was actually the Reasons and these recordings were laid down before the invention of the B-Bender – Clarence White played it straight, with just a tele.
The song selection is eclectic (blues, cajun, rock, country, and instros) and the sound quality a bit rough in spots but this gives the Nashville West album its intimate feel and unique character.  No bullshit here, just hard hitting drum work via Gene Parsons and dazzling Clarence White guitar solos.  The early version of "Nashville West" kicks things off nicely.  Many of the performances are low key but forceful, give a good listen to "Sweet Mental Revenge" and "CC Rider"  for an example of this.  My favorite number is the instrumental "Ode To Billy Joe."  This cut features outstanding, slightly spacey guitar work that sounds pretty fresh 40+ years after the fact.  Other worthy cuts are "By The Time I Get To Pheonix," a sturdy rendition of "Love Of The Common People," "Greensleeves," and "Mom & Dad's Waltz."  The band's sound here is bar-band tight and Gib's vocals are appealingly world weary.
Nashville West was really the beginnings of country-rock.  The performances are fun, honest and the guitar playing is absolutely top notch.  A very good disc.  The Sierra Records CD is the best version to get, as it features a handful of bonus tracks and nice liner notes.
Audio clip: Adobe Flash Player (version 9 or above) is required to play this audio clip. Download the latest version here. You also need to have JavaScript enabled in your browser.
"Ode To Billy Joe"

CD Reissue | 2001 | Sierra | buy at sierra | at amazon ]
Also Recommended