Neil Young "Everybody Knows This Is Nowhere"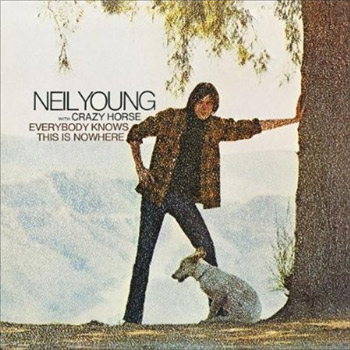 This record holds a very special place in my musical affections. In 1969, being still in the grip of the
Beatles, the British Blues Boom and the tail end of the psychedelic era, I hadn't even heard of Mr
Young. One day whilst idling around London's West End I strolled into the HMV store in Oxford
Street and heard the long central guitar workout from "Down By The River" playing over the PA. I
guess in my five decades of record buying I've bought an unknown album merely from hearing it
played in a store maybe four, five times; the most recent was Beth Orton's Trailer Park about eight
years ago. Everybody Knows was my first such purchase. It's still a mega-favourite.
Why did this record turn out so great? I think it's a case of simple serendipity; everything seemed
just to fall into place at these sessions. Neil discovered exactly the right backing band, sympathetic
to his muse to an almost uncanny degree, as evinced by the unselfishly solid bass and drum
backing and the almost telepathic interplay between Young's and Danny Whitten's guitars. Neil's
simultaneously fragile and potent voice has never sounded better, and the slightly ragged harmonies
are exquisite. The songs show their composer at a creative summit, and whilst they provide
prototypes for all of his future directions (the perverse electronica of Trans excepted), their variety
is surely unmatched on any single later album; from the distortion-laden proto-grunge of "Cinnamon
Girl" through the wry cod-Nashville of "The Losing End", via the sparse, punky groove of "Down
By The River" with its crunching, wailing solos, and the understated acoustic beauty of "Round
& Round". There's a vein of sadness and despair that runs all the way through the album like the
lettering through a stick of seaside rock; in particular, Bobby Notkoff's tremulous Klezmer violin work
on "Running Dry" should bring a tear to even the most jaundiced eye. And producer David Briggs
achieves a rare and gratifying symbiosis of warmth and clarity on the original vinyl waxing that the
latest CD reissue finally recaptures (earlier ones being less than perfect in this respect).
I know that I'm courting a flurry of comments by opining that Uncle Neil peaked this early in
his career, and that his second solo album is the best of his remarkable forty-year oeuvre. I've
subsequently absorbed pretty well all of his stuff from the simple, sunny country-folk of Old Ways
to the teeth-loosening fury of Ragged Glory, and I love and respect the man for the breadth of his
vision and his wilful, capricious determination to choose and change his own direction. However, for
me this one still holds the top spot. That said, anyone who wants to propose another Young opus as
the man's masterwork is welcome to do so – with reasons given, of course. Over to you . . . .
Audio clip: Adobe Flash Player (version 9 or above) is required to play this audio clip. Download the latest version here. You also need to have JavaScript enabled in your browser.
"Running Dry (Requiem for the Rock)"

CD Reissue | 2009 | Reprise | buy ]


Vinyl Reissue | 2009 | Reprise | buy ]


Original Vinyl |  1969 | Reprise | search ebay ]


Spotify link | listen ]
Also Recommended