Nicks and Buckingham "Buckingham Nicks"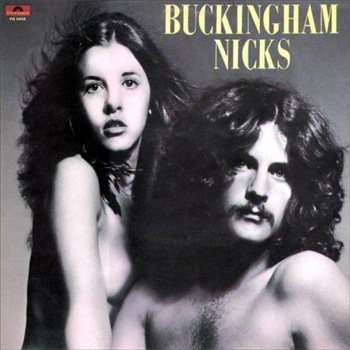 In 1972 Lindsey Buckingham and his girlfriend Stevie Nicks arrived in Los Angeles with a stack of demos, determined to make a dent in the music industry. By 1973 the pair had scored a deal with Polydor Records and headed into Sound City recording studios in Van Nuys to record their debut with producer and engineer Keith Olson behind the board. The resulting 10 track lp, Buckingham Nicks, is a finely crafted pop record that features contributions from some of L.A's finest studio musicians of the time, including Waddy Wachtel, Ronnie Tutt, Jerry Scheff, and the infamous Jim Keltner, as well as the exceptional six-string slinging talents that Buckingham would later become famous for and, of course, Nicks' platinum pipes. Featuring a priceless cover photo, this is the release that first exposed the talents of Lindsey Buckingham and Stevie (then credited as Stevi) Nicks to the world.
Side A kicks off with "Crying In The Night", a poppy folk rocker complete with a lead vocal performance from the young Nicks, already sounding completely in her element. The sound of the song contrasts perfectly with the lyrics, which tell a cautionary tale about a woman on the prowl with not-so-good intentions–another devil in disguise. The driving rhythm, chiming guitars, and hook filled refrain sound straight from the sun bleached streets of Los Angeles and come together to perfectly sum up the essence of what the Buckingham Nicks team was all about. The song is catchy and compact, every element sounding perfectly placed, as if the duo had already perfected their songwriting style and were just waiting for the spotlight to shine their way.
"Without A Leg to Stand On" features both Buckingham and Nicks on vocals, giving Buckingham a chance to step up to the microphone while showcasing their perfectly executed harmonizations, foreshadowing the impressively layered harmonies that would follow shortly when the duo began cranking out hit records with Fleetwood Mac. Chiming 12-strings sparkle and shimmer throughout, and Buckingham even whips up a few tasteful guitar solos, sounding effortless as usual. Overall, the tune has a laid back Malibu vibe that skirts the line between a ballad and a mid-tempo rocker, finally ending up sounding like a lost outtake from Fleetwood Mac streaming out of an FM radio while cruising down Pacific Coast Highway on a sunny day. Which is, of course, a good thing!
"Crystal" surprisingly ends up being one the weaker cuts on the album, with Buckingham at times coming off as if he's trying his hardest to sing a pretty song, instead of pouring himself into an emotional performance. The treatment given to the song on 1975's Fleetwood Mac has an added depth lacking from this early version. Meanwhile, "Stephanie" and "Django" are both short instrumental tracks that highlight, you guessed it, Buckinghams enviable guitar skills. The first of these two, "Stephanie", is a pretty little tune with more of Buckingham's trademark shimmering Martin acoustic guitar tones, sounding similar to "Never Going Back Again" off of Rumours. The one minute long "Django", is obviously a tribute to the Gypsy Jazz guitar master, but unfortunately offers little in the way of melodic development.  Neither "Stephanie" nor "Django" detract significantly from the experience of listening to Buckingham Nicks, but their odd placement in the sequencing of the album does disrupt the flow a little bit and leaves the listener wondering what in the world Polydor was thinking. Nevertheless, both of the tracks are valuable for their insight into the Buckingham Nicks machine and should interest listeners who have ventured far enough into the history books to reach word of this release.
The seven-minute long "Frozen Love" is an absolutely epic album closer. Starting off with fingerpicked acoustic guitar and eventually leading to orchestral flourishes, harmony vocals, and killer harmonized electric guitar leads, "Frozen Love" leaves the you yearning for more, practically taunting the listener to flip the record and do it all over again. Appropriately enough, this is the tune that Mick Fleetwood is rumored to have heard one day while touring Sound City, prompting him to offer Buckingham a spot as lead guitarist in Fleetwood Mac. Buckingham infamously told Fleetwood that Buckingham and Nicks were only available as a package deal, and the rest is history!
Unfortunately, Buckingham Nicks has never been reissued on cd. Fortunately, original vinyl copies aren't too hard to come by, and several cd bootlegs have been available throughout the years. This album is essential listening for fans of Fleetwood Mac and the light it shines on Buckingham's contribution to the British blues band's new sound is truly revelatory. If you've got a craving for more in the way of 70s era Fleetwood Mac, you know how to score the fix!
Audio clip: Adobe Flash Player (version 9 or above) is required to play this audio clip. Download the latest version here. You also need to have JavaScript enabled in your browser.
"Crying in the Night"

Original Vinyl | 1973 | Polydor | search ebay ]
Also Recommended