Oliver "Standing Stone"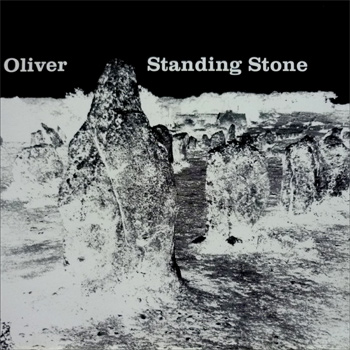 There's nothing new under the sun, the old adage goes. Particularly in music, anything that eventually comes to be seen as groundbreaking can usually be traced back to earlier influences: Beethoven to Haydn, Dylan to Woody Guthrie, the Beatles to Carl Perkins and early Tamla Motown. What makes the new product distinctive is the way the influences are combined, remoulded and extended. Oliver's über-rare psychedelic folk-blues opus Standing Stone clearly takes in the likes of Robert Johnson, Syd Barrett and Captain Beefheart, but his synthesis and development of these already abstruse sources is so imaginative that the end product is truly like nothing else, and that's no exaggeration.
In early 1974 hippie musician Oliver Chaplin and his brother Chris, a BBC sound engineer, retreated to their parents' farm somewhere in Wales "within shouting distance of the Standing Stone", as the reissue booklet note puts it, to produce this totally unique, enigmatic collection. Oliver laid down vocals, acoustic, electric and slide guitars, hand percussion and occasional recorder and harmonica on a four-track Teac. Chris, a veteran of the Beeb's Hendrix sessions, overlaid the various threads and added numerous sound effects, aided and abetted by occasional unsolicited input from various farm and wild creatures.
Oliver's compositions give the effect of being totally spontaneous but are clearly carefully built up given the amount of overdubbing required. The material ranges from tiny, delicate fingerpicked acoustic numbers ("Off On A Trek") via quirky Barrett-esque acid-pop ditties ("Getting Fruity") to rambling, effects-laden one-chord blues extrapolations ("Freezing Cold Like An Iceberg") and whacked-out marijuana-inflected nonsense ("Cat And The Rat"). Oliver's guitar skills are manifold and dextrous and his sound palette seemingly boundless, sometimes sparklingly pure but at others bolstered by a battery of sound effects ranging from simple flanging to backwards taping and what sounds like Les Paul-style vari-speed recording. The lyrics are frequently incomprehensible but it doesn't matter; Oliver uses his voice as another set of instruments, moaning, warbling and scatting, varying its timbre widely and sometimes distorting it electronically. As testament to Chris's skills, the sound quality of the final recording is simultaneously utterly low-fi and outstandingly clean.
The end product was to be offered to the then fledgling Virgin label, but the reclusive Oliver's reluctance to engage with the record industry scotched the deal and only a handful of private-press copies were produced, housed in plain bilious-green jackets. Around fifteen years later one of these surfaced at a car boot sale and the burgeoning psychedelic collector circuit sat up and noticed, applying the retrospective "acid-folk" appellation to it. Such was the demand created by the appearance of this single example that Oliver was tracked down and found to have several more copies still in his possession. These fetched crazy sums until the album was licensed to the tiny UK reissue label Wooden Hill and appeared in that imprint's own habitual very-limited-edition format, firstly on vinyl in 1992 and then on CD in 1995. Appropriately enough, in truly serendipitous manner I stumbled on a copy gathering dust in a Bath charity shop earlier this year; I took it home and it blew my mind. If you decide that you want one you may have to search hard and long and pay top dollar, but if you're lucky enough to find one it'll be worth it. Meanwhile several tracks can be found on YouTube.
mp3: Off On A Trek
mp3: Cat And The Rat

Original | 1974 | Private | search ebay ]
Also Recommended