Operas That Rock [ part 1 ]
The Rock Opera is a rare format distinct from the 'Concept Album' and 'Rock Musical.' The word, opera, is wiki-defined as "a dramatic work in which singers convey the drama." 'Concept album' is a term used for an album of related songs that may not adhere to the format of an opera. So a rock opera is, simply, an opera that rocks.
A 'rock musical' is often conceived by an outsider looking in (Broadway producers or filmmakers, rather than a true blue rock band) and merely achieves an emulation of rock & roll. This is not to say that we don't love the 39-lashes lick from JCS, it's just that Andrew Lloyd Weber wasn't the real deal.
So here are what we believe to be the finest albums to master the form of 'rock opera,' in reverse chronology, with a summary and a track from each to let you in on the sound.
PINK FLOYD
THE WALL
December 8, 1979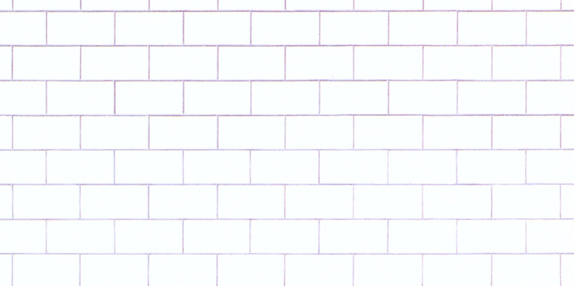 The Story: "Pink loses his father as a child, is smothered by his over-protective mother, and is oppressed at school by tyrannical, abusive teachers, each of these traumas becoming "another brick in the wall." As an adult Pink becomes a rock star, but his relationships are marred by infidelity and outbursts of violence. As his marriage crumbles, Pink finishes building the wall and completes his isolation from human contact.
Pink's mindset deteriorates behind his freshly completed wall, with his personal crisis culminating during an onstage performance. Hallucinating, Pink believes that he is a fascist dictator, and his concerts are like Neo-Nazi rallies where he sets his men on fans he considers unworthy, only to have his conscience rebel at this and put himself on trial, his inner judge ordering him to "tear down the wall" in order to open himself to the outside world." –Wikipedia
The Sound: This was the last of the Pink Floyd's 2nd master work period. Naturally, I am more of a Barrett/Piper fan, but it is hard to deny the excellence of the Floyd albums from Dark Side through to The Wall. Loaded with bits of ear candy and sound effects, The Wall was written by Roger Waters as an expression of disgust with his own band's experience in the rock business.
Audio clip: Adobe Flash Player (version 9 or above) is required to play this audio clip. Download the latest version here. You also need to have JavaScript enabled in your browser.
"In The Flesh"

MP3 Download | buy from amazon
]


Original Vinyl | search ebay ]
FRANK ZAPPA
JOE'S GARAGE
September 17, 1979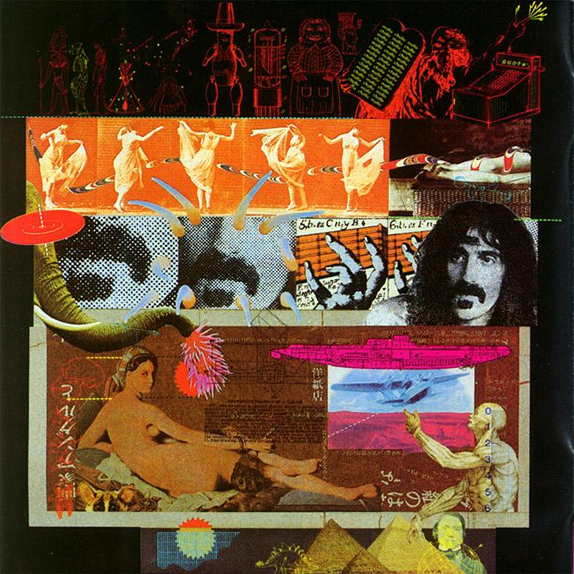 The Story: A disjointed tale of Joe, an ordinary young man whose life is turned upside down when he gets into rock & roll. A flying robot, known as The Central Scrutinizer and described in the libretto to be a cheap flying robot with a megaphone snout, ties the songs together with its denouncements and threats to illegalize music. Joe's life hits all the touchstones of an exaggerated rock career: starting out playing music in the garage, experiencing life on the road, trouble with women (and STD's), degradation due to band member's drug use and eventual imprisonment. Bizzare side quests detail Mary's entry in a Wet T-shirt contest and Joe's association with The Church of Appliantology. In the end, Joe is released from prison, but music has been outlawed, and his desires to hear music must be confined to his imagination. -Brendan
The Sound: Zappa's sound by the late 70s had a highly developed, almost inhumanly slick sound, incorporating an orchestra of synths and sfx, trebly fuzz guitar, and lots of reggae inspired rhythms. This album is way too over the top to play for the uninitiated, and by that I mean, DO NOT dare to play this for your girlfriend.
Audio clip: Adobe Flash Player (version 9 or above) is required to play this audio clip. Download the latest version here. You also need to have JavaScript enabled in your browser.
"Central Scrutinizer"

CD Reissue | 1995 | Zappa Records | buy from amazon
]


Original Vinyl | search ebay ]
GENESIS
THE LAMB LIES DOWN ON BROADWAY
November 18, 1974

The Story: "The album tells the surreal story of a half-Puerto Rican juvenile delinquent named Rael living in New York City, who is swept underground to face bizarre creatures and nightmarish dangers in order to rescue his brother John. Several of the story's occurrences and places were derived from Peter Gabriel's dreams, and the protagonist's name is a play on his surname. It should be noted that in an interview Phil Collins remarked, "It's about a "split personality". In this context, Rael would believe he is looking for John but is actually looking for a missing part of himself. The individual songs also make satirical allusions to everything from mythology to the sexual revolution to advertising and consumerism. " –Wikipedia
The Sound: The last record the by underrated Genesis with Peter Gabriel, this double LP is regarded by many fans as a masterpiece. The first LP is more conventional than the second, which finds Brian Eno adding effects and sound processing to the more atmospheric tracks. The album's release saw Genesis performing the album live 102 times in a single tour.
Audio clip: Adobe Flash Player (version 9 or above) is required to play this audio clip. Download the latest version here. You also need to have JavaScript enabled in your browser.
"Cuckoo Cocoon"

CD Reissue | 1994 | Atlantic | buy from amazon
]


Original Vinyl | search ebay ]
Also Recommended