Paul Revere and the Raiders "The Spirit of '67"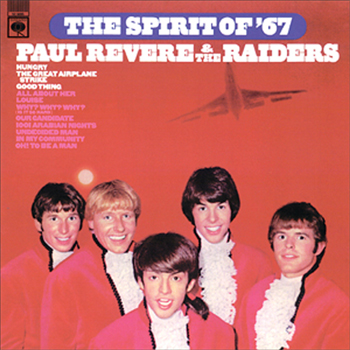 Silly costumes aside, the Raiders were one of America's great rock bands. Their costumes and top 40 pop image kept the band from being taken seriously and a later, 70's version of the Raiders placed more emphasis on comedy and entertainment than artistic merit. Surely it was one of rock's hardest downfalls but in their day the Raiders were something special and Spirit of '67 was one of their unqualified triumphs.
This album was released at the tail end of 1966 and could best be described as the band's Revolver. Mid period Raiders' records had the benefit of a strong in-house writing team (Lindsay/Revere) and the production talents of the great Terry Melcher. The hits Good Thing and Hungry are here, and while they are a fine testament to the group's commercial image, the rest of this record is just as impressive taking on a dizzying array of pop styles without a single stumble or fall. Highlights include the gritty Northwestern hard rock of Louise, which harkens back to the band's early Oregon days, a jangly folk-rocker Why? Why? Why? that had a strong Byrds feel, reflective 60's pop in the form of Oh! To Be A Man and the pulsating psychedelia of 1001 Arabian Nights. The band even found time to write Undecided Man, an excellent Eleanor Rigby cop with a prominent string arrangement and dramatic Mark Lindsay vocals.
The last track, The Great Airplane Strike, a minor top 40 hit, was one of the band's finest ever. Airplane Strike is a hard, lean rocker with powerful, spiraling fuzz leads and Lindsay's best Jaggeresque vocals. It's a killer track and while the band would release another good record in Revolution, they never bettered Spirit of '67. Recommended.
Audio clip: Adobe Flash Player (version 9 or above) is required to play this audio clip. Download the latest version here. You also need to have JavaScript enabled in your browser.
"The Great Airplane Strike"

CD Reissue | Sundazed | 1996 | buy from Sundazed | amazon
]


Original Vinyl | 1966 | ebay ]
Paul Revere & the Raiders – Kicks
Also Recommended