Paul Siebel "Woodsmoke and Oranges"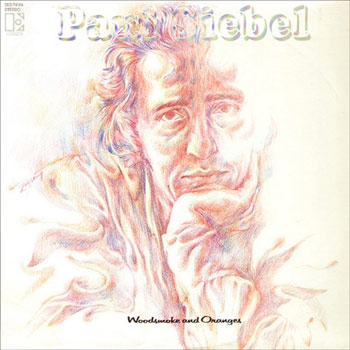 Certainly a musician's musician kind of record, Woodsmoke and Oranges ought to have a shot on anyone's shelf. Siebel's debut is a laid-back set of incredibly strong songs, maybe nothing to knock you out on the first listen, but iron solid in its replay value and a proud, essential piece of any songwriter, folk, or country rock collection.
She Made Me Lose My Blues kicks off with one of the hottest intro licks I've ever heard from the pedal steel. Can't complain about that sound, can you? Paul may not possess one of the all-time vocal deliveries, but with tunes as nice as this it just doesn't matter, and I wouldn't want it any other way. A ton of better known artists wanted to give a try on these gems, particularly a fine little lament called Louise (mp3s), which has been covered by Plainsong, Leo Kottke, and Jerry Jeff Walker, among others. A nice country rock groover in Nashville Again with some jazz-influenced changes on Miss Cherry Lane and Ballad of Honest Sam. A soft rainy ending, Long Afternoons, tightly seals the deal on this record's necessity to a larger audience than a small circle of folk collectors.
Woodsmoke was recorded on the quick with top-shelf musicians including the fantastic David Bromberg, Richard Greene (Muleskinner), and one Weldon Myrick on steel. The 2004 Rhino reissue includes 1971's equally good follow-up, Jack Knife Gypsy, boasting an astoundingly impressive personnel.
Audio clip: Adobe Flash Player (version 9 or above) is required to play this audio clip. Download the latest version here. You also need to have JavaScript enabled in your browser.
"She Made Me Lose My Blues"

CD Reissue | 2004 | Rhino | buy from amazon
]


Original Vinyl | 1970 | Elektra | search ebay ]
Also Recommended