P.F. Sloan "Twelve More Times"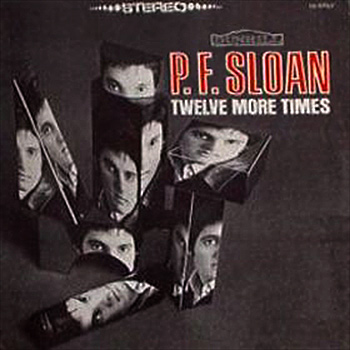 P.F. Sloan is one of America's great artists. It's truly a shame that his work is not as celebrated (or in print) as other pop figures from the 1960's. From 1965 to 1967 few artists were as prolific as Sloan.
He released 2 great albums, numerous quality singles, an album under the Grass Roots name in 1966 and produced a plethora of outtakes which are currently unavailable on compact disc. Sloan also wrote numerous folk-pop hits for many popular acts of the day which include the Turtles, Barry McGuire and many others. One of the best songwriters of his generation, Sloan also had good vocals that were moody and just right for rock music.
The 1966 album, Twelve More Times was an electrified folk-rock album, dealing with more sophisticated subject matter as compared to his 1965 debut. From A Distance, Here's Where You Belong, Upon A Painted Ocean and Lollipop Train sound like they could have been hit singles. Sloan calls upon a style that mixes 1966 Bob Dylan, Tambourine era Byrds, folk-rock era Beau Brummels, and the Leaves on some of their more garage oriented efforts. I Found A Girl, is completely acoustic and a lovely naive folk lullaby in which Sloan spreads the joys of finding a girl. The above mentioned Lollipop Train is more teenage heartbreak, primitive, but an astonishing treasure.
This was a time when so many rock musicians were making great music but it was not being noticed or hitting the air waves. Halloween Mary is a great Bob Dylan cop that has some excellent girl put-down lyrics and good hooky guitar riffs. Let Me Be is also killer, a slice of proto power pop finding the singer analyzing himself over some acoustic guitars and pounding drums.
This album has a lot of character and punk bite, something that many of those great folk-rock albums had. It's a tragedy that Sloan's first two albums are unavailable on compact disc. They are truly lost classics!
Audio clip: Adobe Flash Player (version 9 or above) is required to play this audio clip. Download the latest version here. You also need to have JavaScript enabled in your browser.
"Halloween Mary"
Also Recommended