Phil Ochs "Greatest Hits"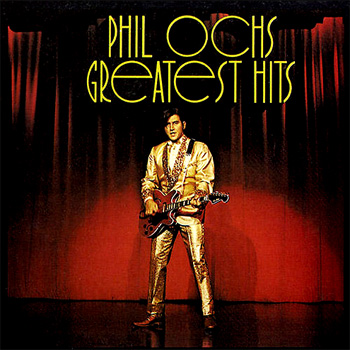 Few rock and roll tragedies have the sort of complex, emotional impact as that of Phil Ochs. As the most uncompromising of the 1960s protest singers, Ochs was arguably one of the only such singers who refused to surrender his revolutionary ambitions for abstract, personal romanticism. However, as the idealistic hopes of the decade began to give way to darker days, Ochs found the counterculture facing what looked like a losing battle. Caught between the collapse of the movement he had devoted himself to and a deep, chronic depression, Ochs did what any man would do: he took a wild left turn and released one of his most esoteric albums – one that remained fervently political, but which also turned out to be surprisingly autobiographical.
Despite its title, Greatest Hits is an album of ten new original songs, produced by the legendary Van Dyke Parks. This record had to have been one of the last thing Ochs fans expected from their hero, as it more or less entirely eschews the folk music foundations of his previous records and instead delves wholeheartedly into a sort of orchestral country rock. A taste of the man's electric explorations was certainly evident on his last record, Rehearsals For Retirement, but that had been comparable to what Dylan and the Byrds had done before him; the country touch here is his most interesting indulgence.
Perhaps tellingly, Elvis Presley serves as one of the record's most pervasive influences, from the Elvis In Memphis nod of the cover art, to the great, sarcastic tag-line "fifty Phil Ochs fans can't be wrong." One of Ochs' best-remembered quotes is that "if there's any hope for a revolution in America, it lies in getting Elvis Presley to become Che Guevara." This record is his strongest attempt at bridging the wide gap between those two disparate icons, and though it has never received much critical or commercial attention, it really is an underrated classic.
Simply reading through the musicians involved gives testimony to the musical strength here. Players include Clarence White, Kevin Kelley and Gene Parsons from the Byrds, Ry Cooder, Chris Ethridge, James Burton, Earl Ball, and even Don Rich from the Buckaroos. Together they craft a driving and authentic honky-tonk sound that is given a unique bent by Parks' contrasting orchestral arrangements – check out the opener "One Way Ticket Home" for one of the most interesting examples. Of course, that is not to say that Ochs' old sound is entirely absent, as songs such as "Jim Dean From Indiana" and the eerily prophetic "No More Songs" certainly harken back to the somber and dramatic style he had been exploring on his last few recordings.
Greatest Hits is criminally out of print in any tangible format, though it is available digitally. This is absolutely a record worth investigating, whether you're already an established Phil Ochs fan or are only now learning about the man and his music. A live record was made during the tour for this album, and eventually released in 1975 as Gunfight at Carnegie Hall. It takes Ochs' robust new sound even further, featuring numerous rock and roll covers and rearrangements of older material. Also of note is the new, highly-recommended documentary about Ochs, There But For Fortune. It's a compelling story, and the film really does manage to capture the many tangled aspects of his life, including his enduring legacy.
Audio clip: Adobe Flash Player (version 9 or above) is required to play this audio clip. Download the latest version here. You also need to have JavaScript enabled in your browser.
"One Way Ticket Home"

Original Vinyl | 1970 | A&M | search ebay ]


MP3 Album | download here ]


Spotify link | listen ]
Also Recommended