Procol Harum "A Salty Dog"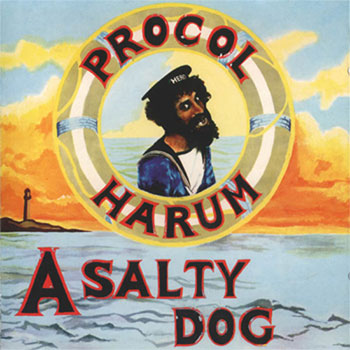 Agruably Procol Harum's finest hour, A Salty Dog (A&M, 1969) was the last album with keyboard/organ player Matthew Fisher.  Fisher's keyboards dominate typical Procol Harum numbers like "Pilgrim's Progress," "All This and More," and the excellent progressive rocker "Wreck of the Hesperus."  These songs (all very good) are what you'd expect to find on a late 60's Procol Harum record, a slow paced, keyboard driven sound.  It's the remaining tracks that push the group's resources to the limit, seeing them branch out into new musical territory that is often exciting and original.
The album opened with the title track, "A Salty Dog."  One of Procol Harum's most ambitious statements, this composition features beautiful string arrangements and Gary Brooker's tremendous vocals (he never sounded better).  Also of note are B.J. Wilson's powerhouse drum work and the brilliant lyrics of Keith Reid, which accurately describe the paranoia ocean explorers encounter at sea.  For these reasons, the music and lyricism work well together, creating a peculiar sense of impending doom or fear of the unknown.  "A Salty Dog" is still regarded as one of the finest pieces of early progressive rock, and with good reason, it's a superb song that conjures up eerie feelings – a must own.  Other standouts are the dreamy folk of "Too Much Between Us,"  intelligent roots rock in "The Hand of Human Kindness" and the pre World War II style blues of "Juicy John Pink."  The latter sounds lo-fi and may be the rawest, most basic track Procol Harum has ever cut; it really is an authentic blues piece too, highlighted by Trower's fantastic guitar leads and Brooker's boozy late nite vocals.  "Boredom," another unique number, is a pretty accoustic campfire jam with distinct Caribbean rhythms.  This is an LP full of variety and style. 
Hard rock enthusiasts may want to pick this up for the great, sludgey rocker titled "The Devil Came From Kansas."  This one has pounding drums and pile driving guitar riffs, probably their heaviest song – essential music for the classic rock fan.  In fact, all throughout the album Robin Trower's guitar work is a joy, reaching highs with his own epic composition "Crucifixion Lane" and the cool, stuttering fuzztones heard on aforementioned "The Hand of Human Kindness."  The band tries all kinds of different experiments out on A Salty Dog, so in a sense it may sound overwhelming at first.  Patience and mutiple listens pay off and reveal A Salty Dog to be one of the best classic rock albums of 1969.
Originals are easy to find in good shape (vinyl).  There have been several good cd reissues by Salvo (2009) and Westside as well.  These reissues feature excellent bonus material and copious liner notes.  By the way, A Salty Dog is slang for an experienced sailor or a libidinous man.  It's also the name of an acoholic beverage which is made with vodka or gin and grapefruit juice.
Audio clip: Adobe Flash Player (version 9 or above) is required to play this audio clip. Download the latest version here. You also need to have JavaScript enabled in your browser.
"Milk Of Human Kindness"

Original Vinyl | 1969 | A&M | search ebay ]


CD Reissue | 2009 | Salvo | amazon ]
Also Recommended