Public Nuisance "Gotta Survive"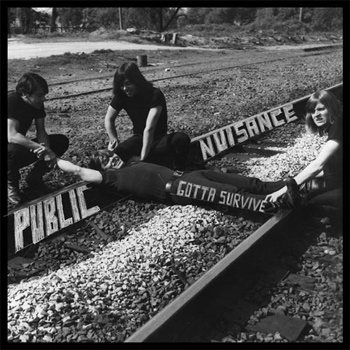 Gotta Survive is an essential reissue from Jack White's Third Man Records label. If Public Nuisance is remembered today at all it's due to their appearance on many of the day's psychedelic ballroom posters.  This group never released a single or LP in their lifetime but recorded two albums worth of material that sat on the shelf for over 30 years. Frantic Records first released a fine double disc anthology of Public Nuisance's material which was followed up by this vinyl only reissue in 2012.
The bulk of Gotta Survive was recorded in 1967-1968. A precursor group called Moss & the Rocks released a mediocre garage folk-rock 45 in 1966 but the music on this record is much more experimental and exciting – garage psych with detours into folk-rock, hard rock and sunshine pop. Listening to Gotta Survive makes me think of a band caught between the primitive garage rock era (the Seeds, Music Machine, etc.) and the heavier, hard rock sounds that emerged in 1968 (think Blue Cheer or the underrated Yesterday's Children). Public Nuisance also had a knack for catchy melodies and pop hooks as heard on the atmospheric "Sabor Thing."  They were a versatile group whose songs have inventive arrangements and pop friendly melodies.
Tracks like the churning "Thoughts," "Strawberry Man," and "Magical Music Box" show the group wasn't afraid to take a chance in the studio.  "Magical Music Box," a punchy rocker with Who/Move-like energy (without sounding like either of these groups) and fuzz propelled guitar work is a particular standout.  "Small Faces," a track Jack White has often covered live, is the album's true classic – a powerful guitar heavy monster that has to rank as one of the best songs in the garage psych bag.  "Ecstasy", another gem, is the group at their most psychedelic and complex, featuring flutes, harpsichord and morose vocals.
Had Gotta Survive been released in 1968 it would have ranked as one of the better psych albums of it's day.  Hopefully Third Man Records will offer up the group's remaining material on a second vinyl installment.  Public Nuisance may have been one of the era's best kept secrets (hard luck acts) but it's good to know that people still appreciate this music 45 years on.
mp3: Magical Music Box
mp3: Holy Man

Reissue | 2012 | Third Man Records | buy from third man ]
Also Recommended