Relatively Clean Rivers (self-titled)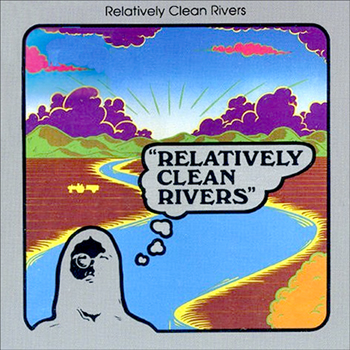 This album comes out of the mind of Phil Pearlman. Pearlman is a veteran of the American 60's rock scene, being the brains behind such epic psych albums Beat of the Earth and the great Electronic Hole. Relatively Clean Rivers' only album was released in 1975/76 though it sounds straight out of 1969. This album is extremely rare and has proven to be quite a controversial privately financed release.
Some feel this album is the second coming, with strong apocalyptic acid visions and wonderful musicianship. Others feel that it's a solid rural rock record with strands of late period psychedelia. It's important to note that Relatively Clean Rivers was name checked as an influence in a recent interview (via Record Collector magazine) with a Wilco band member concerning their latest album release. This Wilco band member called the record a 60's guitar album that is "economic." Regardless, RCR may not be the second coming but it's still a great album from a period in rock (1974-75) that was thought to be void of such hidden country psych gems.
It's really a quiet, flowing rural record that has many unsettling, strange moments. At first listen Hello Sunshine immediately stands out amongst the crowd. This song is pretty great, sounding like a stoned underground version of Crosby, Stills, Nash and Young. Everything comes off very natural and the music never sounds forced or dishonest. Much of the record is predominately acoustic, though Journey Through The Valley has some strong electric guitar acid leads. Other tunes like the effects laden Babylon are very spacey and almost veer towards progressive rock. The album closes with the reflective A Thousand Years. It's another strong composition with some eastern influenced acoustic guitar playing, lyrics with bizarre religious overtones and backward cymbals. Relatively Clean Rivers is not bound to be everyone's cup of tea, though fans of rural rock should investigate this great private press release.
Audio clip: Adobe Flash Player (version 9 or above) is required to play this audio clip. Download the latest version here. You also need to have JavaScript enabled in your browser.
"Hello Sunshine"
NOTE: Please avoid purchasing this album from the Radioactive label. Radioactive and related label, Fallout are pirate operations, meaning they do not pay the original artists or copyright holders when they sell bootleg vinyl rips on CD. Read more about it at NothingExceptional.com.
Also Recommended