Richard and Mimi Fariña "Reflections in a Crystal Wind"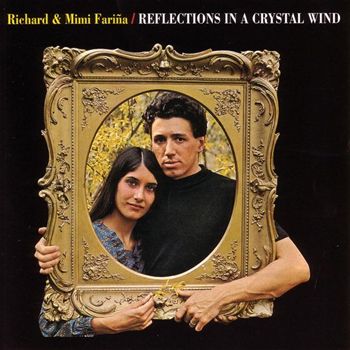 Though not forgotten by any means, the unique and groundbreaking music of Mimi and Richard Fariña still remains distressingly under-appreciated. As the sands of time have gathered, the two have, in many ways, found their roles as musicians eclipsed by other aspects of their lives: namely, Mimi as Joan Baez's little sister, and Dick as an iconic literary figure of the post-Beat generation. The fact that they were not only recording electric folk-rock before almost anybody else on the scene, but raga-influenced folk-rock at that, seems to be on a card relegated to the bottom of their deck. Bob Dylan's Bringing It All Back Home may have predated the Fariñas' debut album, Celebrations For A Grey Day, by a month, but it was Dick Fariña who had been actively asserting to the revival's leading lights that American folk music was no good without a beat you could dance to. Hell, at the 1965 Newport Folk Festival, the Fariñas were stomping out rainy day rock and roll several hours before Dylan's electric set supposedly blew open the doors of the genre.
But enough frustrated backstory, because I think just digging the music will tell you all you really need to know. Eight months after dropping their extraordinary debut, the Fariñas released this record, Reflections In A Crystal Wind. Building on the white-lightning folk-rock-raga sound of Celebrations, this album establishes the two's developed musical spirit while, at the same time, expanding the range of their repertoire considerably. Both Dick and Mimi are at the top of their games, both vocally and instrumentally, with Mimi especially starting to shine, such as on the swaying guitar and dulcimer duet "Miles," her tribute to the Prince of Darkness. There are less instrumental showcases here than on the first album, but the two make up for it with a plethora of righteous songs. It's difficult to choose highlights, but the ominous "Bold Marauder" and biting, anti-establishment "House of Un-American Blues Activity Dream" are nothing but stone-cold classics. You find lots of instances where an author's talent fails to translate into songwriting talent and vice versa, but that is absolutely not the case here. The sharp wit and crystalline imagery of Dick's literature is everywhere on Reflections, as he leaps effortlessly from rapid-fire satire to beautiful, lyrical evocations. Even the two's attempt at a languid, junky blues ("Mainline Prosperity Blues") comes up supernatural, with John Hammond and Bruce Langhorne digging in on harmonica and guitar, respectively.
Richard Fariña's tragic death by motorcycle misadventure is well recounted (I'd recommend David Hadju's Positively Fourth Street), cutting down a beautiful spirit whose artistic endeavors had only just set sail. Mimi would release the odds and ends compilation Memories the following year, which  has proven just as essential as everything else to two ever recorded. Vanguard Records has kept all of the Fariñas albums in print, and even put out a three-disc set of their complete recordings a while ago that is definitely a worthwhile investment, particularly as it includes nine live cuts culled from two of their three Newport appearances. Don't let Mimi and Richard slip you by; with whole heart do I recommend their records as required listening.
Audio clip: Adobe Flash Player (version 9 or above) is required to play this audio clip. Download the latest version here. You also need to have JavaScript enabled in your browser.
"House un-American Blues Activity Dream"

Reissue | 1995 | Vanguard | buy ]


Original | 1965 | Vanguard | search ]


Spotify link | listen ]
Also Recommended