Richard Hell & The Voidoids "Blank Generation"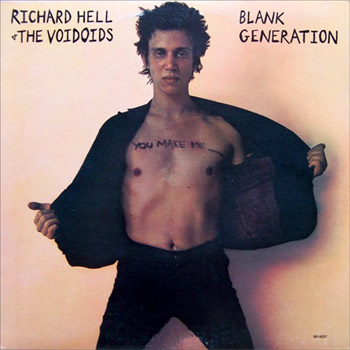 After the uncertainty as to into which genre his previous band's magnum opus ought to be placed, Richard Hell's first album as bandleader turns out to be refreshingly and unambiguously punk, from whichever side of the Atlantic you define it.
Like Marquee Moon, the Voidoids' debut offers a twin-guitar attack, but there any resemblance ends; devoid of any art-rock pretensions, the band and the album sit proudly and squarely between the New York and London incarnations of punk, yet with some surprisingly original touches. Hell's spiky hair and ripped clothing, eagerly adopted by the Sex Pistols and their acolytes, contrast with the balding, bearded, bespectacled Bob Quine, hardly a punk icon. The guitars too are spiky, but Quine's nervy, occasionally shrieking leads are closer to Richard Thompson's edgy electric style than to either Tom Verlaine's crystalline confections or Steve Jones's simplistic Keef knockoffs. Hell is a better vocalist than either Verlaine or John Lydon, with clearer diction and a wider range of both pitches and effects; the heterodyne yowl he employs on "Love Comes In Spurts" and "Liars Beware" would be copied, irritatingly to excess, by Adam Ant. And Hell's lyric writing is suitably rebellious in content, but steeped in the Romantic poetry which was his other muse.
The songs too provide unexpected variety. "Love Comes In Spurts" features a distinctive orgasmic guitar figure, and a chugging beat and repetitious refrain that suggest the thrusts of sexual intercourse. The slower "Betrayal Takes Two" has an almost Spectorish progression. "Down At The Rock And Roll Club" sounds like a demented outtake from the Who's Tommy, right down to the brief appropriation of the riff from "I'm Free". The title track employs a walking chord and bass pattern not dissimilar to Brian Setzer's "Stray Cat Strut", and has a fascinatingly ambiguous lyric: optimistic or nihilistic? "Walking On The Water" is a radically punked-up cover of a John Fogerty song, but the Voids playfully follow it with "The Plan", an original performed to perfection in Creedence style complete with mellow country-rock leads from Quine. The eight-minute "Another World" is as close as they get to Televison, both lyrically and musically, but lacks the subtlety and dynamics of "Marquee Moon", and the long, howling fadeout definitely outstays its welcome. However the only real dog is the CD reissue bonus track, Hell's inexplicable and inept cover of Sinatra's "All The Way", which is nowhere near as repugnant as Sid Vicious's later "My Way" but falls just as flat.
Intriguingly, Hell allegedly claimed that the "blank" in "Blank Generation" was not an expression of hopelessness for youth culture, as per the "no future" in the Pistols' "Anarchy In The UK", but an invitation to youth culture to insert its own definition. In a similar vein, on the original cover art, which differs from that used on the reissue CD, Hell has written across his bare chest "You make me ____ ". What? Again, that's for you to decide.
Audio clip: Adobe Flash Player (version 9 or above) is required to play this audio clip. Download the latest version here. You also need to have JavaScript enabled in your browser.
"Love Comes in Spurts"

Vinyl | 1977 | Stiff | search ebay ]


MP3 Album | download @ amzn ]


Spotify link | listen ]
Also Recommended