Rick Nelson "In Concert"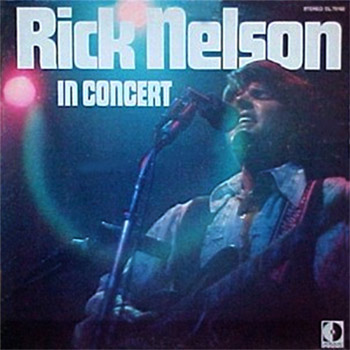 From an unlikely source comes this burst of pure, live country rock and roll. Born into stardom, the younger son of Ozzie & Harriett was a teen idol with big hit singles by the age of 17. More than ten years later, the grown-up and rechristened "Rick" Nelson had developed into a Californian country rocker as fine as any, but his child-star status would forever bar him the proper recognition.
Other artists of this time, like the Byrds on Sweetheart, are accused of being a rock band that merely played country – there wasn't a strong sense of synergy. Whatever the true definition of "country rock," listening to Rick Nelson on stage at the Troubadour, debuting his new sound in 1969, adds a significant layer of depth to my understanding of the country rock cross section. There's no doubt this is a piece of the puzzle.
While it's hard to ignore some of Rick Nelson's nerdier lyrics, especially on the album opener, "Come On In," ("we're gonna sing our songs for you, hope we make you feel good too"), the Stone Canyon Band captures you straight off the kicker. Tom Brumley (ex Buckaroo) on steel, Randy Meisner (Eagles) on bass, Allen Kemp and Pat Shanahan (both future New Riders) on lead guitar and drums. This was a mean assortment and they deliver an authoritative rock sound with deep seated country leanings.
Nelson manages some hipper originals with "Who Cares About Tomorrow" into "Promises," a medley, vaguely recalling Del Shannon's Charles Westover sound. The Stone Canyons manicure Bob Dylan's "She Belongs To Me" a la Beau Brummels' tightly knit Nashville rock, and reveal one of the concert's sweetest spots.  The whole record builds like a sweet crescendo and suddenly you remember why you came to see the show tonight. Another Dylan gem, "If You Got To Go, Go Now" shifts things to high gear. Even Ricky's monster hit, Fats Domino's "I'm Walkin" gets it cool with an irresistible honky-funk treatment. Tim Hardin's "Red Balloon" is another highlight – what guitarist wouldn't want to play this lead 100 times on this stage? "Louisiana Man" has that tongue-in-cheek hillbilly groove but it's nice enough.
Another Nelson original, "Easy to be Free," written "a couple of weeks" before this was recorded is another piece of songwriting fluff ("did you ever want to fly, over rainbow skies so high") but the dreamy mood is what counts this late in the night. The record closes with one final Dylan masterpiece, "I Shall Be Released." Class act. I wouldn't use my "timeless" stamp here, but this is no doubt a classic, and as bona fide a country-rock performance as any I've heard. Good show, Ricky.
Audio clip: Adobe Flash Player (version 9 or above) is required to play this audio clip. Download the latest version here. You also need to have JavaScript enabled in your browser.
"Red Balloon"

Original Vinyl | 1970 | MCA | search ebay ]


MP3 Album | download ]


Spotify link | listen ]
Also Recommended