Riley "Grandma's Roadhouse"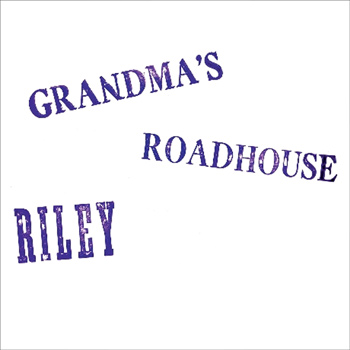 I'm a long time fan of the perfect hair, boozy lamentations, and sorrowful, wavering croon of popular country music's tragic superstar, Gary Stewart. When I heard Delmore Recordings had unearthed one of Gary's first projects, a 500 LP hand-stamped private-pressed recording from after-hour sessions at Bradley's Barn in 1970, well, who could resist.
Nashville writing partners and recording assistants, Gary Stewart (who would hit it big in the later 70s with "She's Acting Single, I'm Drinking Doubles" and "Drinkin' Thing") and Bill Eldridge invited Michigan's Riley Watkins, Jim Snead, and Jim Noveskey to experiment during their free time at the Barn. Nashville Scene does an excellent service to the rest of Riley's story, although, I can't agree their music is very commercial in sound. Roadhouse may be one of the scratchiest demos I have yet to hear from the early country-rock (as Delmore calls it "headneck") genre. These are scant, dusty archive recordings ("Daddy's Come Home" even mildly garbled by tape flutter). Riley's sound is more on par with what came from suburban garages in the early 60s than anything ever recorded in Music City USA; naturally I'm completely in to the record.
The sound is somewhere between The Band's americana, heady jams and headstrong vocals of Moody Blues, CSN-tinged harmonies, Link Wray's chicken shack (in this case "Funky Tar Paper Shack"), and down-home southern vibe you'll find in bands like Goose Creek and Wheatstraw-era Dillards. For Stewart fans, the highlight is Gary's big vox on his own "Drinkin' Them Squeezins," an early nod to his secret formula. Big kudos to Delmore for digging this up from nowhere; I'll never tire of excellent unheard reissues from this era. Keep em coming!
Get some more at whenyouawake.
Audio clip: Adobe Flash Player (version 9 or above) is required to play this audio clip. Download the latest version here. You also need to have JavaScript enabled in your browser.
"Field Of Green"

Vinyl Reissue | 2010 | Delmore |  buy from delmore ]


CD Reissue | 2010 | Delmore Recordings |  buy  @ delmore ]


Spotify link | listen ]
Also Recommended