Rodriguez "Cold Fact"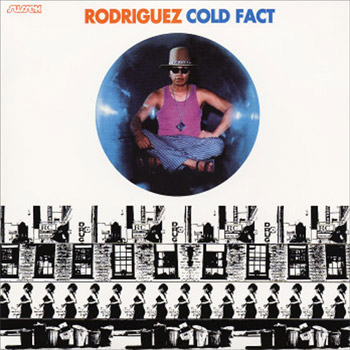 Cold Fact by Sixto Rodriguez was recently reissued by Light In The Attic – an excellent reissue at that.  Over the past few years this lp has gained quite a reputation, probably due to its unique sound, which is still fresh even by today's indie rock/folk-rock standards.  Cold Fact was originally released by Sussex in 1970 and while it didn't sell too well in the U.S. , the record gained a new lease on life in 1971 when A&M repressed the lp in Australia, South Africa, and New Zealand – where it sold well (he would eventually play to sell-out stadium crowds in South Africa!).  Rodriguez was born in Detriot MI, his parents were both Mexican immigrants – his first name was chosen because he was the sixth child. 
Cold Fact is a s0lid record all thru – a real four star gem. One can tell that Dylan was a major influence but this should by no means discredit  Rodriguez's originality and talents as a songwriter.  The album led off with "Sugar Man," a drug addled masterpiece full of intriguing lyrics, twisted electronic sound effects, and soulful vocals.  "Sugar Man" is a very dark composition that has stood the test of time well and probably the lp's standout track – a true classic.  Other tracks are worthwhile though like the fuzz guitar driven garage rocker "Only Good For Conversation" or the horn laden "Crucify Your Mind."  "Hate Street Dialogue," "I Wonder," and "Forget It" are also excellent with good accoustic melodies and lyrics that really hit home hard.  This is real outsider music that is sung so eloquently and played so well it's almost hard to notice the despair – you really have to listen to the lyrics. 
Prior to the Light In the Attic reissue there was a so/so RCA repress from the late 80s.  Light In The Attic have done a great job with Rodriquez and will also be reissuing his second lp, Coming From Reality.  Cold Fact is singer-songwriter material at its best with beautiful vocals, catchy songs, string and horn arrangements that compliment rather than harm, great downer lyrics, and just the right amount of psych-folk residual.  Distinctive soul searching stuff.
Audio clip: Adobe Flash Player (version 9 or above) is required to play this audio clip. Download the latest version here. You also need to have JavaScript enabled in your browser.
"Sugar Man"

CD Reissue | 2008 | Light In The Attic | buy from attic | amazon ]


Vinyl Search | ebay ]
Also Recommended