Roland White "I Wasn't Born to Rock'n Roll"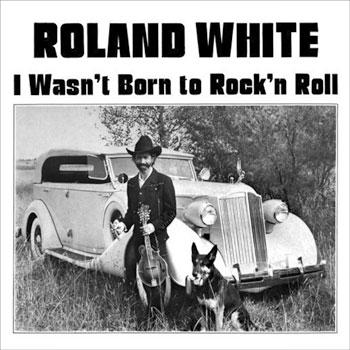 During the early '60s folk revival, The Kentucky Colonels were the hottest pickers around, for a minute. Led by brothers Roland White and Clarence White, in 1964 and '65 they released their knockout instrumental record, Appalachian Swing!, and recorded some astonishing live performances, largely showcasing Clarence's cutting-edge crosspicking and Roland's speedy work on the mandolin. By 1965, Clarence was moving on to electric sessions, later joining Nasvhille West and The Byrds and Roland would soon join Bill Monroe's Blue Grass Boys, followed by Lester Flatt's Nashville Grass.
On this 1976 release (three years after Clarence's tragic death) Roland doesn't quite abuse his mando like he did in the Colonel days, but instead turns out a wonderfully laid back collection of old-timers and gems from a well-steeped knowledge of bluegrass history. Alan Munde, Kenny Wertz, Roger Bush, and Dave Ferguson join Roland on a deeply traditional set, but one that digs up some of the lesser known tunes by Monroe ("Can't You Hear Me Calling"), the Carter Family ("The Storms Are On The Ocean"), and Lester Flatt, whose "Head Over Heels In Love With You" appears on a White record for the first time since the brothers released their very first single, back when they were The Country Boys.
"Powder Creek" is the one original, an instrumental fiddle-tune written by Clarence and Roland in 1963 (on the Jersey Turnpike!), and recorded for the first time here. One of my favorite cuts is the previously unreleased bonus track, a smooth take on "She's Her Own Special Baby" by songwriter, John Hadley (who also contributes "Doorstep of Trouble" and another fine one, "Same Old Blues Again"). Roland gives the standards one clean swoop in his eight-minute "Marathon," a medley coasting through classics like "Love Please Come Home," "Nine Pound Hammer," "and "Shackles and Chains."
What this album may be missing in 'hot licks,' it makes up for tenfold in charm. Released for the first time on CD from Tompkins Square, this has been spinning back to front in my old ride on these early summer days; a relaxed, endearing effort from a legend in his own right. The perfect kickoff to bluegrass season. Time to get pickin.
Audio clip: Adobe Flash Player (version 9 or above) is required to play this audio clip. Download the latest version here. You also need to have JavaScript enabled in your browser.
"She Is Her Own Special Baby"

CD Reissue | 2010 | Tompkins Square | buy from amazon ]


Original Vinyl | 1976 | Ridge Runner Records | search ebay ]


Spotify link | listen ]
Also Recommended