Ry Cooder "Chicken Skin Music"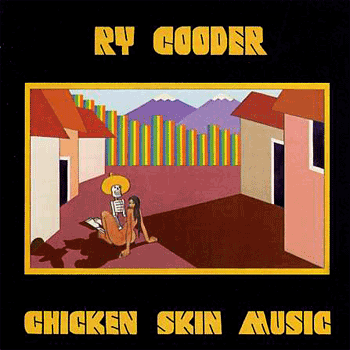 Not exactly a "lost" album, though hardly a classic – on first release in 1976 it struggled to position 177 on the Billboard album chart – Chicken Skin Music can now be seen as an early landmark in Ry Cooder's lifelong odyssey to reinterpret and re-popularise the various roots musics of North and Central America. His first four solo releases had concentrated on the traditional musical styles of the United States's poor blacks and whites: blues, country, rural folk and gospel. With this collection he widened his sweep to include cultures on the margins of American society, and in doing so produced one of the earliest forays by a "rock" musician, and the first of many by Cooder himself, into what we now call World Music. It's now widely regarded as his finest work in a distinguished oeuvre.
Leonardo "Flaco" Jiménez is a virtuoso Tejano accordionist, playing a South Texas style that sprang from German polka and Mexican mariachi roots; since coming to wider prominence with Cooder, he's enjoyed a long and successful career with Doug Sahm's Texas Tornadoes. Cooder had played with him shortly before and asked him to contribute to his next recording. Jiménez accordingly graced several tracks on the album with his quicksilver button accordion motifs, giving a lively Tex-Mex topping to Cooder's revolutionary revivals of the Nashville hit "He'll Have To Go", refashioned in a glorious baion rhythm with the accordion harmonised by alto sax in pure Mariachi fashion;  of Lieber and Stoller's evergreen "Stand By Me", rendered as a sombre spiritual; and of the hoary old Leadbelly chestnut "Goodnight Irene" in which the accordion fronts a traditional string band in a loping waltz. Cooder contributed to the Hispanic flavour with his newly-incorporated bajo sexto and tiple, as well as his usual electric and slide guitars.
The late Charles "Gabby" Pahinui was a master of Hawaiian lapsteel guitar, and Leland "Atta" Isaacs a virtuoso of the indigenous slack-key guitar style in which the instrument is tuned to one of a variety of open chords but is fretted fingerstyle rather than with a slide. Both were longtime heroes of traditional music in their home islands, and the lynchpins of the revival of Hawaiian roots music in the early 1970s. Cooder flew to Honolulu specifically to record with them: the sessions produced a relaxed Hawaiian rendition of Hank Snow's old hit "Yellow Roses" and an effortless Western Swing instrumental version of Gus Kuhn's venerable "Chloe". Taking his cue from his hosts, Cooder added additional slack-key on the former, and on the latter he harmonised Pahinui's C6 lapsteel with another, plus overlaying some toothsome mandolin work. Cooder would return the favour by playing on several Pahinui/Isaacs albums.
On the remaining tracks Cooder emulates his distinguished collaborators, adding slack-key guitar to a lilting rendition of the ancient spiritual "Always Lift Him Up" and a modest Cajun accordion – under Jiménez's tutelage – to a sympathetic reading of Leadbelly's anti-racist polemic "Bourgeois Blues". He provides continuity with his earlier recordings by including rocking versions of the old minstrel songs "I Got Mine" and "Smack Dab In The Middle" performed in his accustomed style with faultless electric and slide guitar accompaniment. The presence of various buddies from the LA session Mafia – notably Chris Etheridge (bs), Jim Keltner (drs), George Bohannon (horns) – and his long-standing soulful backing vocal trio of Bobby King, Terry Evans and Herman Johnson ensure quality results throughout.
In more recent years Cooder's campaign on behalf of the roots musics of America has finally achieved substantive commercial penetration with those of Cuba (Buena Vista Social Club) and Latino California (Chávez Ravine), whilst his urge to collaborate with musicians from more distant cultures has seen him work with Hindustani classical veena player H.M. Bhatt (A Meeting By The River) and the late and greatly lamented Mali multi-instrumental maestro Ali Farka Touré (Talking Timbuktu). They're all excellent works. At 64 he shows no sign of slowing down and it's impossible to second-guess what his next project will be. Whatever, you know it'll be worth a listen.
Audio clip: Adobe Flash Player (version 9 or above) is required to play this audio clip. Download the latest version here. You also need to have JavaScript enabled in your browser.
"Chloe"

Original | 1976 | Reprise | search ebay ]


MP3 Album | download here ]


Spotify link | listen ]
Also Recommended