Sir Douglas Quintet "Mendocino"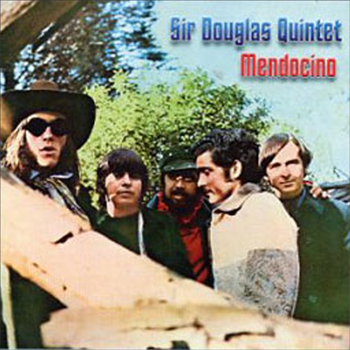 You could never judge The Sir Douglas Quintet by their name. It was picked out by a manager that wanted to give the boys an English vibe, pretty common practice in those days considering the influence of The Beatles. Thing is, there's no name that could ever define the eclectic hodge-podge sound the Sir Douglas Quintet consistently rocked for a good 5 or 6 years after 1969. Well, except maybe 'Doug Sahm.'
Mendocino is not only a great introduction to SDQ and Doug Sahm's music, but its own style of music all together. Texas music was a result of a great cross section of western musical styles, including tex-mex, cajun, polka, country, rhythm and blues, rock, and the San Fransisco sound. Doug Sahm was probably the first musician who was legitimately steeped in all of this and couldn't control himself from playing it all at once.
As for the tunes on Mendocino, there are nary a miss, but not exactly a first-time winner. I mean this album will have to grow on you before you can really enjoy it. Once you get the hang of the sound you'll be ready for the whole Little Doug discog. Crossroads is an easy one to get into fast, as is the SDQ's biggest hit: She's About A Mover, featuring the classic Vox Continental organ lead from Augie Meyers. Lawd, I'm Just A Country Boy is a great illustration of a Texan's view of the late 60's scene in SF (and a microcosm of the album in general). I've got a big soft spot for some of the more subtle numbers as well, like I Don't Want and I Wanna Be Your Mama. The seven bonus tracks included on the CD reissue are all keepers too; check out Sunday Sunny Mill Valley Groove Day.
All in all, this is an exceptionally strong album, and one you won't regret picking up, after you give yourself some time with it. A real good grower.
Audio clip: Adobe Flash Player (version 9 or above) is required to play this audio clip. Download the latest version here. You also need to have JavaScript enabled in your browser.
"Lawd, I'm Just A Country Boy In This Great Big Freaky City"
[ Buy from Amazon
| search eBay ]
Also Recommended