Tages "Contrast"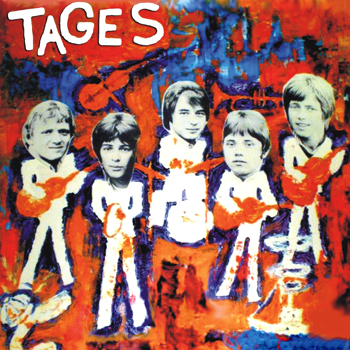 I first heard of the Swedish band Tages through this very site, from a great post on their memorable 1967 album Studio.  Tages actually released two albums that year, and I find the earlier release Contrast to be an interesting foil to Studio (which it preceded by seven months). Both albums are filled with their signature brew of incredibly creative psychedelic rock, but I find myself more attracted to the songs on "Contrast" (with all but four being originals).
What sets Tages apart from many other 'foreign' psych bands of the era is their high production standards, which could be credited at least partly to producer Anders Henriksson. The arrangements and unique sounds of Tages' records elevate them above mere copy-cat status and have helped make both their 1967 albums an interesting listen to this day.
The track "You're Too Incomprehensible" alone is enough to convert any skeptic to a Tages devotee. Multiple movements, lush yet avant-garde strings, and a myriad of sound effects all bubble around a really lovely tune- progressive psychedelia at it's finest. "Fuzzy Patterns" would be fairly straight forward, if not for the orchestral freakout placed right in the middle. "Prisoner 763" is an incredibly dark tune- played on a harpsichord heavily treated with delay. The line "I am condemned" hits hard, with the melody owing  much to to the Swedish folk the group was reared on.
Some tracks fall slightly short of the mark, like "Sister's Got a Boyfriend" and "Why Do You Hide It?", the latter of which carries the creepy lyric "I think you are the prettiest child a woman ever has born". Both of these songs contain great production; their shortcomings are simply that they are strange songs (which may in fact be due to their troubles with English).
Opener "I'm Going Out" is an upbeat jaunt in the vein of The Zombies "This Will Be Our Year", except with the ironic lyrics "I want to cry; I want to die". It's this slightly off kilter tendency that has kept "Contrast" fresh; the nuances reveal themselves on repeat listens.
Contrast stands on it's own as an interesting record, and it was met with deserved success in Tages' homeland.  It's yet to be released in it's entirety on CD, but many of the songs can be found on various "Greatest Hits" collections as well as their retrospective "1964-1968" disc.
Audio clip: Adobe Flash Player (version 9 or above) is required to play this audio clip. Download the latest version here. You also need to have JavaScript enabled in your browser.
"You're Too Incomprehensible"

Original | 1967 | Parlophone | search ebay ]


Anthology |  2010 | EMI | buy here ]
Also Recommended