Taj Mahal "Giant Step/De Ole Folks At Home"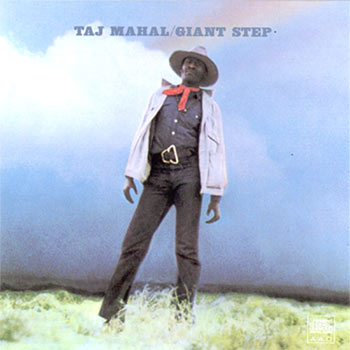 I 've never been a huge blues student. I go for more complicated songwriting, interesting chord progressions, and short, snappy solos – things from which the blues typically stray. Until lately, this deficiency has unjustly prevented me from discovering artists who successfully managed to fuse pop, rock, country, or soul with the blues and deliver music that falls right in the sweet spot. Finally, and thankfully, I'm currently loving this little (giant) gem from the incomparable Taj Mahal.
Along with Ry Cooder, Taj was a founder of the legendary Rising Sons, and went on to release two stripped down delta-blues classics in 1968. Giant Step, released concurrently with a raw collection of solo recordings called De Ole Folks At Home in 1969, would be his third, and personal favorite to many.  It's the title track's delicate, sparse mood I can't stuff in my head enough. Taj transforms the Monkees hit, composed by Carole King and Gerry Goffin, into a relaxed and gorgeous rural roamer – his muddy vox rolls all over the changes, miles beyond blues. And though Giant Step isn't completely free of the old I-IV-V, just let the feedback harmonica moan from Give Your Woman What She Wants hook you in, the toe-tapping Cajun feel to You're Gonna Need Somebody On Your Bond take you along, and overpowered drive of Six Days On The Road stamp it down, then see who cares about chord progressions anymore.
The most fun comes from inventive production touches: childish piano tittering on Good Morning Little School Girl, metronomic banjo rapping on Farther On Down The Road (one of two originals on the record and an easy classic), ace country guitar leads all throughout provided by Jesse Ed Davis, here accompanying Taj for the third and final record before embarking on his own solo career (releasing three solid records and sessioning with plenty of the greats). The final track, Bacon Fat, is a pretty standard blues originally penned by The Band, and here mostly a drawn out jam affording everbody last licks.
The album is actually 2 in 1, accompanied with De Ole Folks At Home, an acoustic solo set with Taj providing old-time steel-body slide picking, clawhammer banjo, harp, and hambone on traditional and classic numbers like Cluck Old Hen and Fishing Blues, as well as several originals. It's like pulling up a hot seat on Taj's front porch, who would pass? An excellent pairing, this record is essential on its own and along with Giant Step you can't refuse. Downhome grooves, raw authentic performances, a plain fun record that got me rethinking the blues. "Take a giant step outside your mind."
Audio clip: Adobe Flash Player (version 9 or above) is required to play this audio clip. Download the latest version here. You also need to have JavaScript enabled in your browser.
"Take A Giant Step"

CD Reissue | 2003 | MSI | 2fer | buy at amazon ]


Original Vinyl |  1969 | Columbia | search ebay ]
Spotify link | listen ]
Also Recommended