Tandyn Almer "Along Comes Tandyn"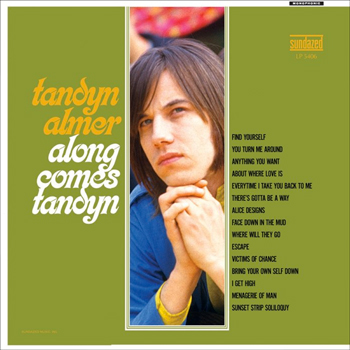 We recently lost another unsung genius from the cracks and crevices of 60s pop/psych. Tandyn Almer, who sadly passed in early 2013, would never become a household name, but you've definitely heard his work. Penning major tunes like "Along Comes Mary" for the Association, "Sail on Sailor" and "Marcella" for the Beach Boys, and countless other psych-tinged gems, Almer left behind a distinguished trail of well-crafted compositions. Luckily, and ironically (as I'm sure he would have enjoyed to see its official release), we have gained a new trove of lost work in Along Comes Tandyn, a collection of Almer's demos from 1965-1966.
Originally written and recorded for Davon music, a small number of acetates labeled "The New Songs of Tandyn Almer" was circulated in order to shop his tunes to other recording artists. While some acts like The Sure Cure and Curt Boettcher's The Ballroom took the bait, most of these tracks have remained unheard. The sound is definitely demo quality (all the better), the band generally led by a clangy electric guitar and sprinkled with bits of piano and harpsichord. The vocals soar with typical 60s harmony, the lyrics quite often along the same vein. You can tell Almer was a real musician's musician, his tunes never compromise, always taking an unexpected turn and often for something quite complicated. Take a listen to the surprisingly hip "Everytime I Take You Back To Me" and just try to follow the changes; or check the classical piano work on "There's Gotta Be a Way." Even "Along Comes Mary" (not included here) ducks and weaves at every chance, delivering it's punch where you'd least expect it.
Some of Almer's other happenings of note include an interview in Leonard Bernstein's Inside Pop – The Rock Revolution (a "serious" investigation into pop's emergence as an art form), as well as a short-lived best friendship with Brian Wilson, allegedly ending in an enstranging three-way.  While not exactly loaded with clear winners (Face Down in the Mud" is a downright weirdo blues offering that would sound at home on FZ's Only in it for the Money and some tracks sound a bit like psychedelic filler), Along Comes Tandyn is still an excellent comp of lost pop-psych with a satisfying garage sound. Essential for fans of complex pop, the full package includes excellent liners (with lots of information provided by Tandyn himself) and will turn anyone into a hardcore Tandyn fan. Count me a Fandyn.
mp3: You Turn Me Around
mp3: Everytime I Take You Back To Me

LP | 2013 | Sundazed | buy at sundazed | amazon ]


CD | 2013 | Sundazed | buy at sundazed | amazon ]
Also Recommended