Ted Lucas "The Om Album"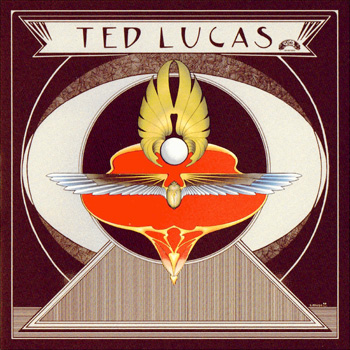 Yoga Records, in collaboration with Riverman, are hitting it out of the park in their first year. It seems a shame I haven't heard this record before, as it's an easy new favorite. Ted Lucas got his start playing in a Detroit folk revival band called The Spike-Drivers, eventually leaving to form other groups The Misty Wizards, Horny Toads, and the Boogie Disease. While he was a respected figure in Michigan's folk and rock scene, his self-titled solo album (recorded largely in his attic studio during 1974) failed to break beyond local recognition.
The promo sticker nails the sound, placing Ted Lucas next to legends John Fahey, Nick Drake, and Skip Spence. It's a right on comparison when you hear what this album has to offer. Each side of the record is plainly its own thing; Side A being a suite of six perfectly sweet folk originals and Side B containing an instrumental, an extended blues jam, and an 8-minute raga. The first three tracks have melodies that seamlessly weave in your head on first or second listen. "I'll Find A Way" is the sleeper knockout, tucking in after the record's gorgeous three song opener: "Plain & Sane & Simple Melody," "It's So Easy," and "Now That I Know." These tunes are so easy to love and will have no trouble lodging comfortably in your head. I can't contain how much I dig the side A closer "It Is So Nice To Get Stoned," especially when "Sonny Boy Blues" on side B warns "you better stop drinking that wine." Arrangements are sparse, an acoustic guitar gracefully ornamented with sitar drones (Lucas played uncredited sitar on the Tempations' "Psychedelic Shack") and delicate electric fingerpicking, with some auto-harp and tasteful percussion elsewhere. For a lost psych-folk record, the sound is remarkably current.
Comes in a faithfully reproduced LP-style package, with a facsimile of the original insert, new liners and a save-worthy protective cover. Yoga just might make the CD format cool again! Even so, I might have to spring for the vinyl. The insert, by the way, is wonderful, showcasing a badass t-shirt with Stanley Mouse's cover design and contains the lyrics and chords to the songs on the first side. Got to be one of the best reissues of the year.
Audio clip: Adobe Flash Player (version 9 or above) is required to play this audio clip. Download the latest version here. You also need to have JavaScript enabled in your browser.
"It Is So Nice To Get Stoned"

CD Reissue | Yoga/Riverman | at amazon ]


Vinyl Reissue | Yoga/Riverman | at amazon ]
Also Recommended