Television "Marquee Moon"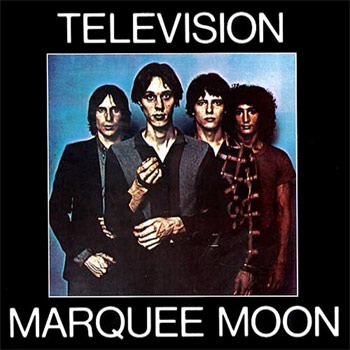 From the start it was difficult to understand how Television came to be identified with the punk movement. OK, so Marquee Moon appeared in 1977, but so did Dire Straits's debut, and nobody ever put them in the punk bracket (though Elvis Costello's also did, and he was lumped in with the punks initially. Ho, hum.). Richard Hell was their first bassist, but he was asked to leave pretty quickly when he proved antipathetic to their carefully constructed tunes and well-rehearsed playing. And while they played CBGB's, that was in 1974, before punk was identified as a new and separate musical current. And what red-blooded punk singer would take as his stage name that of a nineteenth-century French Symbolist poet?
Television has been described by other reviewers as a minimalist rock band, eliciting comparisons with everyone from the Velvet Underground to Philip Glass. Televison's clean, sinuous twin-guitar interplay and complex musical arrangements have no real roots in the Underground's fuzzy two-chord oeuvre. Oddly, the nearest point of reference may be Neil Young with Crazy Horse; just listen to the title track from this album, then play Young's "Down By The River". Agree?
The sound throughout the album is pretty homogeneous, with chiming, crystalline Fender guitars and Tom Verlaine's high, nasal New York voice constantly to the fore, but the songs vary greatly in tempo, key, and arrangement. There are guitar solos, but these are cleanly choreographed, lean and spare, without a note wasted. The lyrics are often opaque, frequently Dylanesque. The heavily solarized portrait of the band on the front cover, by art photographer Robert Mapplethorpe, breathes intruigue. This is genuine art-rock we're talking about here.
Unfortunately there's not really room on this webpage for the magnificent ten-minute title track, but it holds the listener's attention right from the deliberately ambiguous timing of the intro to the unexpected recapitulation in the coda. Of the two MP3s below, "Venus" floats along on a glorious arpeggio – and has a wonderful surrealist lyrical refrain about falling right into the arms of Venus de Milo! – whilst "Friction" comes closest to that Crazy Horse groove, with heavily-vibratoed modal lead guitar, staccato block chords and a funky bassline.
While researching this album I was surprised to find that on original release it did almost zip in the band's home country, though it was very popular in Europe and especially here in the UK. Its high reputation in Britain has persisted; in 2003 the influential New Musical Express declared Marquee Moon to be the fourth best album of all time. (Certainly it's in this reviewer's top twenty.) Perhaps this Rising Storm post will introduce it to a newly appreciative audience in the States.
Audio clip: Adobe Flash Player (version 9 or above) is required to play this audio clip. Download the latest version here. You also need to have JavaScript enabled in your browser.
"Friction"

Original Vinyl | 1977 | Elektra | ebay ]


CD Reissue | 2003 | Elektra | amazon ]


Spotify link | listen ]
Also Recommended