The 13th Floor Elevators "Bull of the Woods"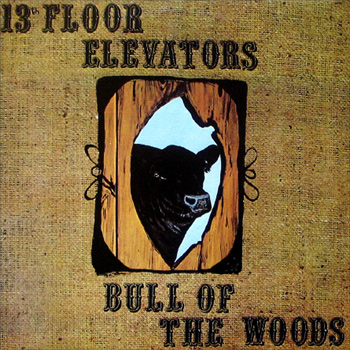 Bull Of The Woods (an International Artists release) is the Elevators most controversial offering.  Some fans claim it's their best LP but many, myself included, feel Psychedelic Sounds and Easter Everywhere are the group's finest discs.  Frequent personnel changes, drug busts and Roky Erickson's fragile state had destroyed the original core of Sutherland, Hall and Erickson.  Stacy Sutherland was the only original member left by 1968 and he made a game effort by putting together some newly recorded "solo" tracks with older, stray Elevator tunes that were cut during the previous year.
The Sutherland solo cuts on Bull Of The Woods are a mellow mixture of blues, roots and psych – totally different than Erickson's feral, howling rockers.  The best of these cuts are the psychedelic "Rose And Thorn," the spacey, heavy echoplex guitar work of "Street Song," and the rootsy blues jam "Down At The River." Erickson sings lead on four tracks: "Dear Doctor," which was supposedly written as a response to a Bob Dylan number, a powerful blues rocker titled "Livin' On," the demented acid psych of "Never Another" (a superb psych track) and finally, Erickson's acid damaged goodbye, "May The Circle Remain Unbroken."   This last cut is loaded with reverb and bears striking similarities (in concept) to the final contributions of Syd Barrett ("Jugband Blues") and Skip Spence ("Seeing").
Overall, Bull Of The Woods is a very good album that's worth owning – you are buying this album for the Erickson tracks.   Not recommended to casual psych or 60's rock fans but essential listening for the Elevator enthusiast.
The excellent Sign of The 3 Eyed Men box set offers an alternative third album in the form of A Love That's Sound (presented as a lost album of sorts).  The tracks that make up this disc are the original group's final sessions (with Erickson and Hall in tow) and include many of the songs that made up the bulk of the Bull Of The Woods album. There are a few outtakes that never made Bull Of The Woods, such as the excellent, hard charging psychedelic rocker "It's You" (also known as "I Don't Ever Want To Come Down").  Also, some of the cuts on A Love That's Sound do not have the horn overdubs that appeared on the original Bull Of The Woods LP.
Audio clip: Adobe Flash Player (version 9 or above) is required to play this audio clip. Download the latest version here. You also need to have JavaScript enabled in your browser.
"Rose And The Thorn"

Original | 1969 | International Artists | search ebay ]


Reissue |  2007 | Spalax | buy here ]


Spotify link | listen ]
Also Recommended