The Beach Boys "Today"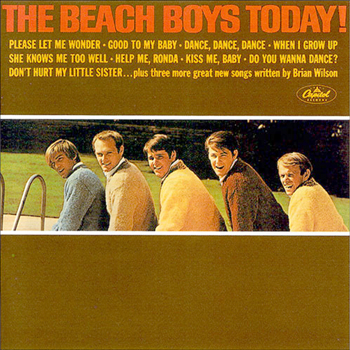 This is the kind of record you can find in the bins mint for under $5. Just look at it! Even record dealers don't realize this little brown album is a crown jewel in the Boys discog, the real precursor to Pet Sounds.
Summer is here, and you are going to want to play some of this Beach Boys music, but you don't want to just throw on Good Vibrations, you need something earlier, less recognizable but that still rattles everybody's Beach Boys bone. The track you are in search of is Do You Wanna Dance, sung by Dennis Wilson and kicking off this great set, sure to get your pool party started.
Maybe you'd end up skipping to Dance, Dance, Dance with its gnarly bass and twelve-string guitar lick, but you'd be missing the endearing Don't Hurt My Little Sister and the harpsichord-led When I Grow Up (To Be A Man). Touches of the Pet Sounds orchestra abound, pick them out on your own! I love these teenage songs so much, but the real gems on here are Please Let Me Wonder (featuring Carl's sincere but silly "I love you" at the fade out) and Kiss Me Baby (kiss a little bit, fight a little bit, kiss a little bit, whoa baby 4x).
It's a great record and even better that (on compact disc) it's coupled with Summer Days (and Summer Nights) featuring the fantastic songs Girl Don't Tell Me, Let Him Run Wild, Summer Means New Love and more!
Audio clip: Adobe Flash Player (version 9 or above) is required to play this audio clip. Download the latest version here. You also need to have JavaScript enabled in your browser.
"Please Let Me Wonder"
[ Buy from Amazon
| Search eBay ]
Also Recommended