The Bobby Fuller Four "I Fought The Law"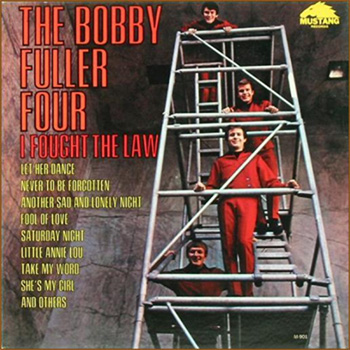 The Bobby Fuller Four were an amazing Texas combo, one of the best pure rock n roll groups ever .  They were an anomaly in the mid 60s, a classic group who enjoyed top 40 hits throughout the British Invasion – a movement that nearly swallowed most American competitors whole and rendered the 50s style rock n roller irrelevant.  Few rock titans possessed the raw talent and drive of Bobby Fuller; he could write songs ready made for the radio, was a fine lead guitarist and early on, he produced his own records.   Fuller was also the owner of a teen club and various independent record labels, a true rock n roll entrepreneur from the genre's early days.
Early on Fuller recorded in Texas for vanity labels Yucca, Eastwood, Exeter, and Todd.  It was during this early period (early 60s) that he was known as "The Rock N Roll King of the Southwest," a crown he wore with pride.  In the mid 60s, Fuller relocated his group to California and recorded two albums for Mustang with Bob Keene producing.  I Fought The Law is probably the Four's crowning achievement.  It's a consistent record that saw Fuller shed his Buddy Holly influences and blossom into a first rate artist.
The album is known for its pounding top ten smash (and rightfully so) "I Fought The Law," a classic outlaw anthem written by Sonny Curtis and recorded earlier by the Crickets (minus Buddy Holly).   Surely one rock's best ever singles, this track was also a nod to Fullers' 50s roots; the Bobby Fuller Four were perhaps the first group that borrowed from rock's genesis or origins, the 1950s, and created a new style known as roots rock.  Other tracks are just as good, however.  "Never To Be Forgotten" is perhaps Fuller's finest creation, with its propulsive fuzz bass (Randy Fuller played bass and was constant in an ever changing lineup), soaring vocals and vibrant tex-mex strumming.  I've never heard anything like it and in a weird way it manages to mix proto country-rock, tex-mex, and sunshine pop into a stunning musical statement (the production on this one is immaculate too).  Other tracks like the charging "Julie" and the Eddie Cochrane influenced "Saturday Night" are near classics that proudly display Bobby Fuller's obsession with 50s style rock.  My favorite track, "Fool of Love," was initially cut in 1964 as a single for Exeter during Fuller's Texas Tapes era.  The Mustang version heard on I Fought The Law is something of a lost classic that's a bit more polished and jangley when compared to the earlier Exeter single.  Other notables are "Let Her Dance" (a minor chart entry) and "Only When I Dream," two great pop tracks with hooks galore and superb vocals.  These tunes compare favorably with Brian Wilson's creations from around the same time;  "Let Her Dance" and "Only When I Dream" could have easily found a home on the Beach Boys' Today album.  All tracks were written by The Bobby Fuller Four (mostly Bobby Fuller), quite an achievement for 1965.
Originals are expensive ($50-$100), which is suprising for a record that really isn't rare and sold pretty well.  There are two cd versions of I Fought The Law, one by Ace (a twofer with KRLA King of the Wheels ) and the other on Never To Be Forgotten: The Mustang Years, an excellent box set.  There's even a nice vinyl Mustang repress that's easily available and highly recommended.
I Fought The Law was Bobby Fuller's last LP before his tragic death and for this reason it remains a vital purchase.  More importantly, Fuller started to sound like himself; he was really coming into his own as a songwriter and creative force around the years of 1965/1966.  Check out the last Bobby Fuller Four single too, "My True Love" (B-side), for proof of Bobby's growth as an original artist.  Real rock n roll lasts forever and nobody did it better than the Bobby Fuller Four.
Audio clip: Adobe Flash Player (version 9 or above) is required to play this audio clip. Download the latest version here. You also need to have JavaScript enabled in your browser.
"Only When I Dream"

CD Reissue | search amazon ]


Original Vinyl | 1966 | Mustang | search ebay ]


Spotify link | listen ]
Also Recommended