The Byrds "Notorious Byrd Brothers"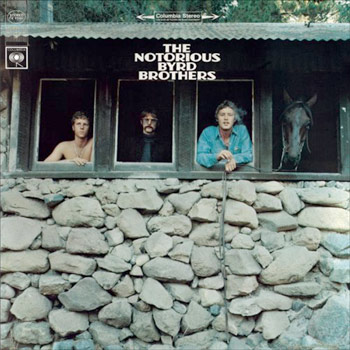 Na Na Notorious! The Byrds sure are notorious gangstas and especially on this album, recommended as a good introduction to The Byrds. The Byrds were a huge, huge group back in the day. Sometimes, today, it seems like they aren't considered up there with the big boys (Beatles, Stones, Who, Byrds), but to those in the know, it's no question. The Byrds were a monumental force in mashing up the folk and rock scenes, and they were also huge fans of Bob Dylan (averaging around two Dylan covers per release). On Notorious Byrd Brothers, they hit their pyschedelic apex, enlisted the Moog synthesizer, fell apart, and created a masterpiece.
They say the horse replaced David Crosby on the sleeve there, he quit the band halfway through the Notorious sessions, as did drummer Michael Clarke. But Chris and McGuinn knew where The Byrds ought to be going (just consult their next album, the heroic and classic Sweetheart of the Rodeo). Some more about this album: produced by Gary Usher;  SFX transitions, swirling 12-string guitars, laid-back rhythms, ever present and beautiful Byrd harmonies, and two of the greatest Carole King/Gerry Goffin penned hits ("Goin' Back" and "Wasn't Born To Follow," (Easy Rider Soundtrack).
It's the most psych of the Byrds' outings, closing with the trippy "Space Odyssey," apparently an attempt to get a piece of Kubrick's movie soundtrack. All the Byrds reissues are great, with plenty of bonus. Remarkably, all of it on this one is really good. Especially the super-weird "Moog Raga."
Besides, if you don't have any Byrds, you won't understand when we refer to them every other review.
Audio clip: Adobe Flash Player (version 9 or above) is required to play this audio clip. Download the latest version here. You also need to have JavaScript enabled in your browser.
"Draft Morning"
[ Buy from Amazon
| iTunes | Search eBay ]
Also Recommended