The Byrds "Younger Than Yesterday"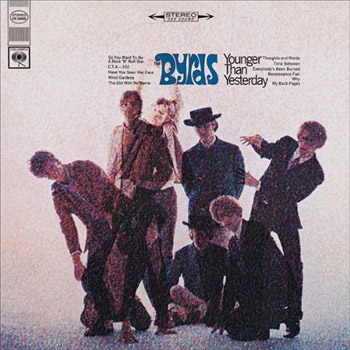 If Mr. Tambourine Man, Notorious Byrd Brothers, and Sweetheart of the Rodeo are acknowledged Byrds' masterworks, Younger Than Yesterday isn't far behind.  There's a few tracks that haven't held up, Mind Gardens – Crosby's psychedelic folk-rock opus is a bit unfocused but not as terrible as the critics make it out to be.  C.T.A. 102, a track that must've sounded cool when this album was released in 1967, has dated space-age sound effects.  These are interesting experiments by all means but the 9 remaining cuts were prime mid 60s Byrds.  At this point Gene Clark had been out of the group for some time, knowing this Hillman and Crosby pitched in big time with some of their best ever compositions.  Younger Than Yesterday is one of the great American rock classics, very close in sound to the Beau Brummels Triangle, Moby Grape's self-titled debut, and Buffalo Springfield's Again. 
The two hits that anchored the lp were pretty great.  So You Wanna Be A Rock N Roll Star blasted out of radio speakers in 1967 sounding unlike anything else with a strong latin feel, great lyrics, and a killer groove.  The other major hit off the album was a cover of Bob Dylan's My Back Pages.  This was one of their best Dylan covers yet and had a trademark, classic McGuinn twelve-string guitar solo.  Crosby offered up one of his best songs, Everybody's Been Burned, a masterpiece of psychedelic folk-rock highlighted by his exquisite, crooning hippie vocals and drowsy acid guitar work.  Renaissance Fair was another Crosby psychedelic folk-rocker with strong acid imagery and shifting time signatures plus some more fine 12-string from McGuinn.  McGuinn and Crosby contributed great material to Younger Than Yesterday but for me it was Hillman's contributions that have stood the sands of time best.  Hillman's Have You Seen Her Face, Time Between, Thoughts and Words, and The Girl With No Name were all superb songs.  Have You Seen Her Face saw the Byrds in garage mode while Thoughts and Words was one of their best straight-up psych numbers.  Prior to Younger Than Yesterday the Byrds had flirted with a kind of proto country-rock sound on Mr. Spaceman and Satisfied Mind.  With Time Between and The Girl With No Name, that flirtation came to fruition.  Hillman had played in bluegrass bands prior to the Byrds, so the said experiments were just an extension of his roots – no gimmicks, completely genuine stuff here.  Both tracks rock pretty nicely and feature some fine guitar work by Byrd-in-waiting Clarence White.  Time Between and GIrl With No Name do not have a heavy Nashville sound but so what, this was the Byrds version of country music and probably a purer fusion than anything else they have done ever since.  Just as the Byrds had broken new ground with psychedelia a year earlier, their move into country represented an advancement of musical frontiers.  The album ended with McGuinn's Why, a great rocker with a riveting space guitar solo.   This track had been released much earlier as the B-side to Eight Miles High in 1966. 
In the mid 90s Columbia rehauled the entire Byrds catalog, reissuing all their classic albums with plenty of extras.  The Younger Than Yesterday reissue includes two lost Crosby gems, It Happens Each Day, which is an outtake, and Lady Friend, one of their best mid 60s non-lp tracks.  Younger Than Yesterday is an important part of the Byrds evolution.  It's a classic album that saw the group at the forefront of pop music – The Byrds were always three steps ahead of the game. 
Audio clip: Adobe Flash Player (version 9 or above) is required to play this audio clip. Download the latest version here. You also need to have JavaScript enabled in your browser.
"The Girl With No Name"

Vinyl Reissue | Mono | Sundazed | buy from sundazed ]


MP3 Album | download at amazon
 ]
Also Recommended