The Can "Monster Movie"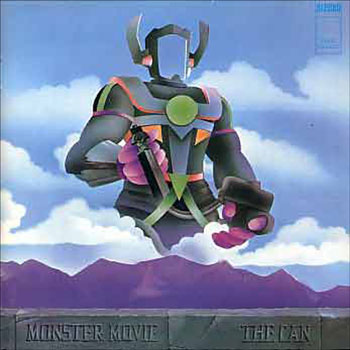 Few bands have had such an influence on modern underground and electronic music as krautrock heroes The Can, subsequently named just Can.
The Can today is most revered with their album Tago Mago
, which perfectly showcases their hypnotizing, improvised (then edited) garage rock jams. Before japanese vocalist Damo Suzuki joined the group, however, The Can released their debut record featuring Malcolm Mooney as lead singer, and it's a beast!
The first three songs on this album echo the psychedelic and garage scene that The Can came from. Unlike subsequent albums, you can hear a bit of a pop song format squeaking through on these excellent psych gems. The real heart of this album, though, is the epic track, Yoo Doo Right, apparently edited down from six hours of studio tape. It's a beauty, with a laid-back and driving rhythm section, catchy bass, nutty drums, eery organ, and swirling guitar backing Mooney's scream-tarnished voice. This song, more than the others, would foreshadow the Can to come.
If you haven't heard The Can yet, you are in for a ride. Listen to this LOUD when you are in a panic! Their sound holds up remarkably well today, noobs will think this was recorded in 2005!
Audio clip: Adobe Flash Player (version 9 or above) is required to play this audio clip. Download the latest version here. You also need to have JavaScript enabled in your browser.
"Outside My Door"
Available as Hybrid SACD and Remastered
Also Recommended