The Crazy World of Arthur Brown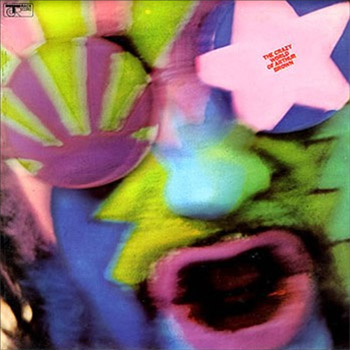 The Crazy World of Arthur Brown issued just one album in 1968 off Polydor. But that one album holds up as one of rock's great one shot wonders. Prior to releasing this lp Brown had been singing in a number of semi pro bands throughout the early 60's while studying in France. It was during this period that Brown developed his strange stage persona and eccentric nature.
In 1967 The Crazy World of Arthur Brown released the Track single Devil's Grip backed by Give Him A Flower. This disc is a good slice of soul drenched psychedelia that was notable for Brown's operatic vocals and heavy organ interplay. In 1968 Brown and the group released Fire, a huge top ten hit over in England and here in the US. When Fire hit the airwaves nothing sounded quite like it. Brown's vocals were demonic, the song's lyrics were threatening and like the album above, it had a slight r n b feel.
The group's only album is one of the masterpieces of late 60's British rock, a confident, flamboyant debut that has few equals. The album opened with Prelude – Nightmare, a powerful piece of early progressive rock with crazed vocals, thundering drums and soulful organ via Vincent Crane – a true classic. The two covers, I Put A Spell On You and I've Got Money are suprisingly fine examples of British R&B. Spontaneous Apple Creation is possibly the album's most psychedelic cut with lots of sound effects and nonsensical lyrics but a good piece of music regardless. The band flirts with basic pop on the catchy Rest Cure but for many Child of My Kingdom was the group's finest moment on lp. This track is a superb piece of British R&B with hints of psychedelia and just plain lostness.
After this debut Brown recorded Strangelands, music that was recorded in the late 60's but would not see an official release till the late 80's. These recordings are strange to say the least and dispense of conventional song structure in favor for something more challenging and demented. In the early 70's Brown would form Kingdom Come, a skilled group of musicians who would release 3 worthwhile records that are more progressive in nature than the Crazy World of Arthur Brown recordings. There have been numerous reissues of the Crazy World of Arthur Brown, the best being a standard Polydor repress and the pricey Japanese import in excellent sound quality. For anyone who likes their music on the edge, this album is a must.
Audio clip: Adobe Flash Player (version 9 or above) is required to play this audio clip. Download the latest version here. You also need to have JavaScript enabled in your browser.
"Child Of My Kingdom"

CD Reissue | 1991 | Polydor | google shop ]


Vinyl Reissue | 2007 | Tapestry | ebay ]
Also Recommended