The Dillards "Wheatstraw Suite"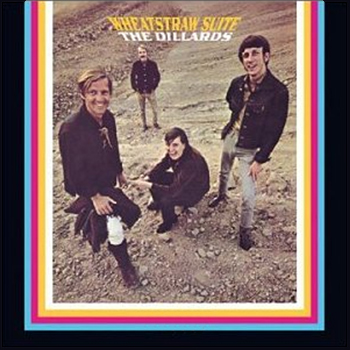 The Dillards are a pioneering bluegrass group that got started releasing tight as hell traditional records and performing as the hillbilly band on The Andy Griffith Show during the early 60s. Their legacy has been influence to the best in bluegrass, newgrass, country and folk rock and one of their most significant contributions is kinda the Sweetheart of bluegrass, Wheatstraw Suite.
It may not be as revered or rugged as Sweetheart of the Rodeo, having a cleaner sound akin to that of the Beau Brummel's country rock work, but it oughta' be every bit as influential. While still present are the exquisite and precise harmonies and banjo from Doug Dillard,  added to the mix we hear orchestral parts, electric instruments and drums. These are big no-no's in the world of trad bluegrass but the hallmarks of pop rock, but there you have it: combine this set-up with a strong set of tunes from multiple disciplines and stir for breakthrough classic status.
"Nobody Knows" is an instant winner and fell me in love with this record right away with that intricately produced Bradley's Barn sound. There are a few silly fun numbers in "Hey Boys," "The Biggest Whatever," and the cowboy tune "Single Saddle." These are the tunes that turn people off to this record, but they are good enough to be included I believe. You'll be happy you stayed for the delicate and different "Lemon Chimes" and great poetic country song "She Sang Hymns Out Of Tune." "Don't You Cry" and "Bending The Strings" seriously cook. And great choices in covers from Tim Hardin and the Beatles' "I've Just Seen A Face."
Audio clip: Adobe Flash Player (version 9 or above) is required to play this audio clip. Download the latest version here. You also need to have JavaScript enabled in your browser.
"I've Just Seen A Face"
[ Search Amazon
| Search eBay ]
Also Recommended