The Electric Prunes "Underground"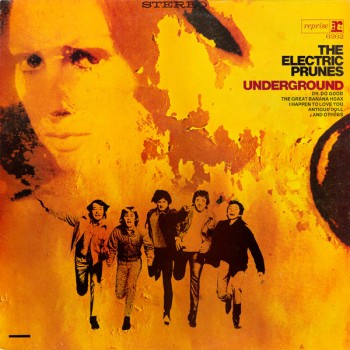 When the Electric Prunes are remembered at all, it's for their seductive nightmare of a 1967 single, "I Had Too Much to Dream (Last Night)."  Culled from their first album, "I Had Too Much to Dream" set a template for the best of the band's work: distorted guitars and vocals, bizarre lyrics and a spooky vibe.
By the time of their second album, the Prunes were tired of being considered a prefab band.  Fed songs from some of L.A.'s best psych-garage writers, controlled in the studio by producer/Machiavelli Dave Hassinger and often replaced on record by studio musicians, the band broke out of the prefab mold and wrote many of the songs on Underground.
The result was a more cohesive album than their first album, even if the many of the album's best songs were contributed by other songwriters. Goffin-King's "I Happen to Love You" is one of the disc's strongest tunes, and the duo of Annette Tucker and Nancie Mantz of "I Had Too Much to Dream" fame, contributed "Antique Doll," another standout track.
But the songs contributed by band members are not throwaways by any means.  "The Great Banana Hoax" by members Jim Lowe and Mark Tulin has as much in common with the Monkees as the Standells, but is nevertheless memorable (and not banana flavored in the least), as are the pair's other contributions, especially the brooding "Everybody Knows You're Not in Love" and "Wind-Up Toys."
Alas, Underground would be the last album for the real Electric Prunes; subsequent albums of pseudo-religious music (sung in Latin at times) used studio musicians playing under the moniker "the Electric Prunes," while the actual Electric Prunes faded from view. Dirty shame.
Audio clip: Adobe Flash Player (version 9 or above) is required to play this audio clip. Download the latest version here. You also need to have JavaScript enabled in your browser.
"Wind Up Toys"

Vinyl Reissue | 2009 | Hi Horse | buy here ]


CD Reissue | 2000 | Collector's Choice | buy here ]


Spotify link | listen ]
Also Recommended