The Everly Brothers "Roots"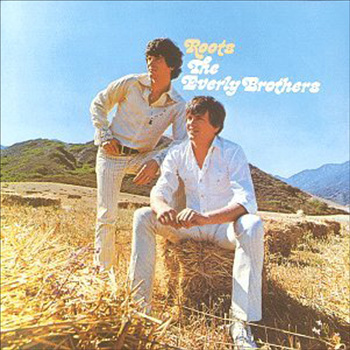 Back in 1968, if you were an Everly fan, you probably would have thought the Brothers had 'sold out' when Roots was released. Though they recorded plenty a pop wonder, this return to the music of their childhood and new sway into contemporary sounds at once was a bold move. Today, it serves as an easy introduction for fans less tuned to the early 60's Ev's, and it will always stand as one of the most important country rock records ever.
It opens with a delightful introduction from Ma and Pa Everly, explaining just how young their talented youngsters really are: "and we gonna play and sing you some songs, neighbors… family style, also country style." By the time Mama Tried jolts in you'll understand this record. The playing is clean, smooth, and country. There are hints of experimentation and collage throughout the record and the arrangements both pay tribute and give new life to these songs.
Fair tribute to the similar sounding late Beau Brummels is paid, the Everlys covering Ron Elliot's Turn Around from Bradley's Barn and the relaxed Ventura Boulevard. Also of note is that Ron Elliott was in the studio, overseeing production of Roots, which also accounts for the similarity in sound. On Roots, the Everly Brothers managed to put an entirely new sound on Shady Grove and T For Texas while at the same time doing their damndest to establish modern songwriters with the new country-rock standards they had written. As always, their harmonies are great.
There's a non-country gem on this record that stands out a bit, it's an early Randy Newman tune entitled Illinois that anyone lucky enough to be living in that fine City of Chicago needs to have on hand. (Looks like this site has it).
The Everly's had always been combining country music and pop. With Roots, maybe they didn't invent country-rock, but they cut their definitive statement on it, and from all the groups who were experimenting with this new sound and style, they were probably the most qualified.
Audio clip: Adobe Flash Player (version 9 or above) is required to play this audio clip. Download the latest version here. You also need to have JavaScript enabled in your browser.
"Turn Around"
[ Buy from Amazon
| Search eBay ]
Also Recommended