The Fallen Angels "It's A Long Way Down"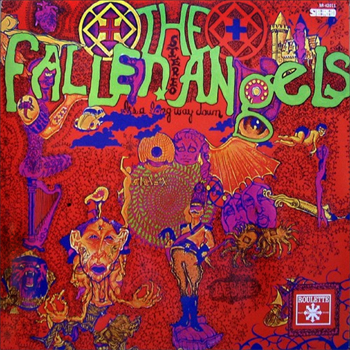 People went crazy in the 1960's and early 70's. Great rock n roll was created everywhere, from New York City to Israel, big cities far and near. Rock music was a giant fuck you to the establishment and older generations.
"It's A Long Way Down" by the Fallen Angels, from 1968, was a product of this revolutionary vortex. It's a minor masterpiece, with a great cover. This album has been forgotten about, lost in the sands of time, a micro-organism lost in a virtual sea that produced an overwhelming body of music.
The Angels had released an uneven but generally exciting debut album in 1967 and some singles beforehand. There was some great highlights on the debut, but for their last album they produced the so-called Sgt. Pepper of Washington D.C. Just think of the Left Banke, late night, stoned and producing some serious outsider music.
Poor Old Man leads the album off and recalls late period (1968-) Zombies. A great song that gives way to A Horn Playing On My Thin Wall, a masterpiece of underground psych and what makes me believe that rock music is one of the best things that has ever happened to this country. Silent Garden and One Of The Few Ones Left are also strong and recall the good qualities of the great Left Banke. Look At The Wind has a hard, fluid jazzy groove while Something You Can't Hide is pure paisley pop, a style which many current bands tend to mimic with less than desirable results.
This is a killer unknown 60's album with a lot of great psych moves. Worth the search!!!!
Audio clip: Adobe Flash Player (version 9 or above) is required to play this audio clip. Download the latest version here. You also need to have JavaScript enabled in your browser.
"A Horn Playing On My Thin Wall"

Vinyl Reissue | 2007 | EMI Roulette | ebay ]


CD Reissue | 1994 | Collectables | amazon ]
Also Recommended